LRP Touring Car Masters 2011 Web Page Online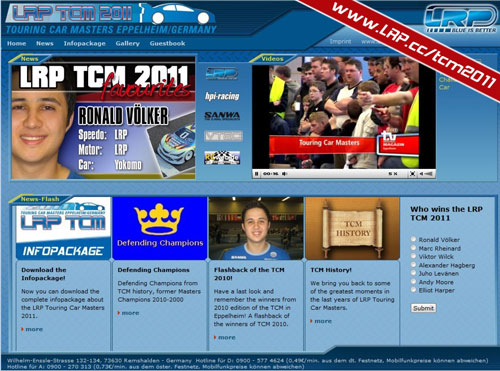 Although the LRP Touring Car Masters 2011 event is some three months away, LRP has already launched a dedicated web page here. As in previous years, the 14th running of the prestigious LRP TCM will be one of the biggest and most exciting touring car races on the international race calendar. Top drivers from all over the world attend are guarantee thrilling on-track action at the venue in Eppelheim near Heidelberg.
Such an important event has to be covered by its own homepage and now drivers and race fans can find all the information and news about the LRP TCM 2011. Of course this page will be regulary updated in the run up to the race where you can see featues such as a poll on who will win the LRP TCM 2011, timetables, entry lists, a guest book and much more. During the race, there will also be live results as well as race reports and pictures.
Source: LRP