Insight – Axial Wraith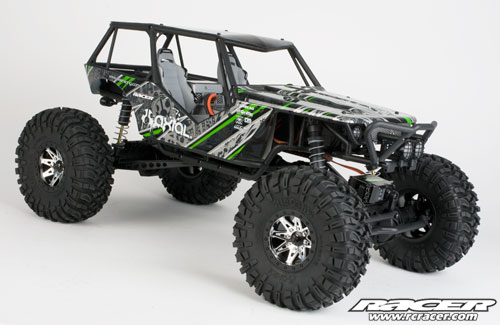 After months of waiting, the Axial Wraith finally made an appearance in the Racer office. So why was it so anticipated? Well finally we have a machine from Axial that actual fills the void between scaler and rock crawler. A lot of scale guys don't like rock crawlers because they do no t look like their full-size counterparts, whereas the crawler guys don't like scale trucks because they lack the ability of some of the top competition class crawlers. So Axial took one of their very own full-size crawler trucks and shrunk it down into the 1:10 Wraith to satisfy those that wanted the best of both worlds.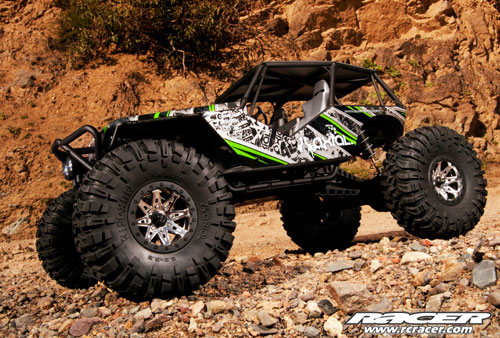 A full tube-style frame encases the drivetrain and you will notice there are no body clips to hold the shell on. In fact there is no body shell at all so to speak. The polycarbonate body panels are held onto the tube frame with hex head screws and really help the scale look.
Inside the cage you will find a full interior with fully licensed Corbeau seats that are just begging to be filled with whatever action figure you can find. Yes we are just big kids.

The Wraith comes fully Ready-To-Run with a 2.4GHz radio system and an Axial/Castle Creations new drag brake brushed speed controller that powers a 20T Axial motor, so the Wraith can really get up a bit of speed if you want, but it's also capable of going slow over the rough stuff.

Not content with giving you a whole new truck you also get new CVD propshafts that are far superior to previous ones seen on the AX10 and SCX10. There is a whole new axle design with an offset pumpkin where the diff resides, and this helps when climbing over the rough stuff giving you lots more clearance directly under the centre line of the truck and also gives an easier line for the propshaft to follow. The Wraith is fitted out of the box with a four-link set-up as well as a set of the very popular 2.2" Ripsaw tyres pre-glued to the plastic rims. As with Axial RTRs, you get lights – four at the front and two at the rear that really help add to the overall look of the truck. You don't get a 7.2V battery in the box, but the battery tray in the rear of the truck is capable of holding a stick pack or even a three-cell LiPo should you fancy it.
We will be giving the Wraith a full test and review in a future issue of Racer so keep them peeled.