RPM Rear Wishbones for the Traxxas 1:16 Slash 4×4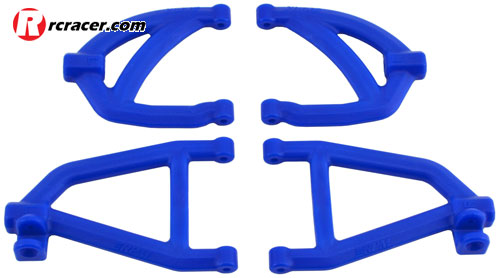 Following the successful launch of their front wishbones, RPM now can offer these rear versions for the 1:16 Slash 4×4 chassis'. The rear wishbones follow all of the same indestructible characteristics that RPM customers have come to expect. They eliminate nearly all of the slop found in the stock components, which allows camber, caster and toe angle settings to be more firmly fixed in position. Unique to RPM suspension wishbones is that the leading and trailing edges feature a 30-degree bevel in these areas, which reduces the chance of breaking suspension parts since the wishbone will naturally try to transition over objects instead of bluntly plowing into them.
RPM rear wishbones for the Traxxas 1:16 Slash 4×4 are sold in sets of four – including both upper and both lower wishbones. RPM 1:16 Slash 4×4 wishbones, like all their moulded products are backed by RPM's industry-leading warranty against breakage for worry-free operation.
These RPM wishbones fit all of the following Traxxas 1:16 scale models: Slash 4×4, F-150 Raptor SVT, Ford Fiesta, Ken Block Gymkhana, Ford Mustang Boss 302, Kyle Busch Race Replica and Rally VXL.
#80672    Black Rear Wishbones
#80675    Blue Rear Wishbones
#80679    Red Rear Wishbones
Source: RPM