Hébert Crowned ROAR 1:12 Modified Carpet National Champ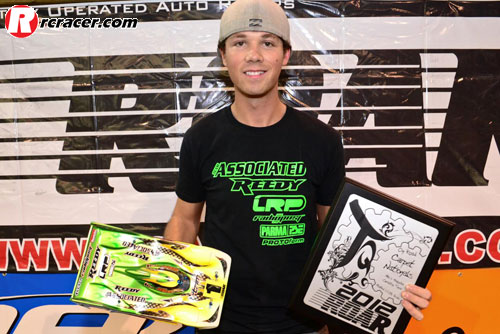 The ROAR Carpet On-Road Nationals was held at Mike's Hobby Shop just outside of Dallas, Texas in the suburb of Carrollton. Team Associated was well represented at the event with Keven Hébert, Mike Blackstock, Rick Hohwart, Sean Cochran and others all in attendance. In the 1:12 Modified class, Keven Hébert and his 12R5.1 powered by Reedy and LRP laid down the fastest qualifier of the weekend in the final round to start on pole for the triple leg A finals. However, the French Canadian wouldn't need three legs to claim his first Modified National Championship. Rocketing from the pole position, Hébert left the field in A1 and never looked back, taking the victory ahead of team mate Mike Blackstock. In the second leg, Hébert again got a great start however, a bobble dropped him back to fifth place at one point. Staying focused and showing the determination of a champion, Hébert found his way back to the lead and distanced himself from the field.
Congratulations to Keven Hébert on his first ROAR Modified National Championship and also to Northwest Team Associated/Reedy/LRP driver Kody Knudtson on his top qualifying effort in 17.5T Touring Non-Timing.
Source: Team Associated