Silver State Wins for Team Associated in Expert Buggy & 40+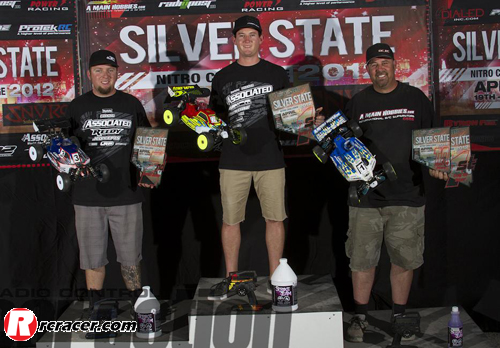 The Silver State Nitro Challenge, known for its demanding surface and weather conditions had a face lift for the 2012 event. Just a few weeks prior to the event, clay was added to the usually silty Sin City RC facility to create a more consistent and "raceable" surface. Additionally, the racers were greeted with mild weather conditions which in the past varied from blazing hot to snowy.
As qualifying got underway, the Team Associated duo of Ryan Maifield and Ryan Cavalieri put in solid qualifying runs while continuing to tune their RC8.2 buggies. Both drivers qualified directly into the main event, starting third and sixth respectively, while team mate Richard Saxton just missing out on a transfer position from the B final.
As the finals got underway, Maifield made use of his good start and kept pace with the leaders, while Cavalieri had to work though the pack the first half of the event. Taking over the lead about half way in to the 45-minute final, Maifield looked poised to repeat as Expert Buggy champion however, it was Cavalieri who was setting the fastest laps and slowly chipping away at Maifield's lead. The stage was set for an epic dual for the one-two Associated finish – it was just a matter of the order. Both pitting for the final time on the same lap, Cavalieri was flawless, picking up three seconds on his out lap, which proved to be enough to take the victory with his Pro-Line-equipped RC8.2 just ahead of Maifield's JConcepts and LRP/Reedy-equipped RC8.2.
In the 40+ Expert Buggy class it was A-Main Hobbies driver Barry Baker and his LRP-equipped RC8.2 that cleaned up. Taking the pole position and victory ahead of other recent 40+ inductees Mike Batlle and Mark Pavidis, Baker took his second victory in the 40+ class with the RC8.2 after his TQ and win just a few months ago at the The Dirt Nitro Challenge.
Congratulations also goes out to Ryan Cavalieri for taking the runner-up position in the Expert Truggy class with his RC8T CE and to Ryan Maifield for his second place qualifying in Expert Truggy effort, again, with the RC8T CE.
Source: Team Associated