Baxter and Stiles Win for Serpent at West London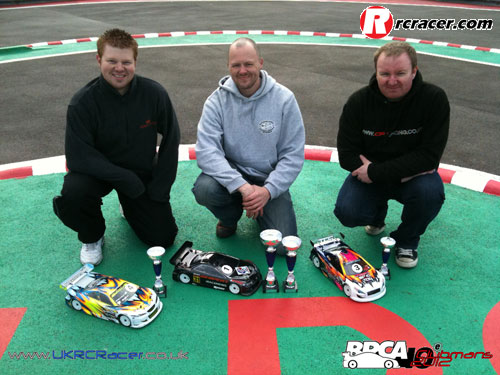 On 15 April, the 2012 BRCA Clubmans Championship would kick off with round one at West London Racing Centre. A very cold start that continued throughout the day would see the drivers working hard to find grip on this challenging circuit. In 17.5T Stock, Rob Baxter would leave it to the final qualifying round to post up the fastest time and claim pole. Richard Clarke would take second spot and Gavin Clinch, making a welcome return to touring cars would claim third. In the first of the two final legs, Rob would clear out from the front and not really suffer any challenge to take the win. Second spot though would be a fight between Gavin Clinch and Richard Thorpe, and would go to the line, Gavin taking second by just over half a second from Richard. Leg two had a bit more drama to it though for Rob. As the leg started Rob was being pushed hard by Richard from second on the grid. Richard was trying hard to get by and both he and Rob would come together a number of times, dropping them back down the field. Richard Thorpe would come through and control the pace at the front and pull away from the field to take the leg win. Rob had recovered well from earlier in the race and was hard onto Mark Young's tail in second spot. Mark would drive it clean hitting the apexes and denying Rob second spot, Mark crossing the line just 0.21 of a second ahead of Rob. With a tie for top spot between Rob and Richard it would go back to qualifying to decide. With his pole position Rob, would take the overall win from Richard and in another tie decided by grid position, Gavin would be third.
P    Driver – Chassis
1    Rob Baxter – Serpent
2    Richard Thorpe – Tamiya
3    Gavin Clinch – Serpent
4    Mark Young – TOP
5    Les Baldrey – Associated
6    Richard Clarke – Tamiya
7    Paul O'Rourke- Schumacher
8    Mark Bristow – Xray
9    Ben Jackson – NA
10  Pete Tims – Schumacher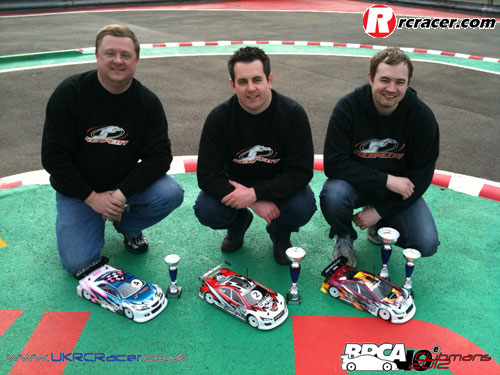 In 13.5T qualifying, Serpent driver Chris Kerswell would be dominant all day, holding pole through each round. The battle for the final front row spot would be hard fought affair with another Serpent team member Mark Stiles taking it wit third going to Liam Brooks. In the finals, leg one would be a 'Serpent show' with Chris Kerswell and Mark Stiles driving away from the pack. Mark was trying hard all through the five minutes to get on terms with his team mate, but Chris just seemed to have that edge. But disaster though would strike when Chris was passing a lapped car and crashed out. Mark took over the lead to take leg one followed home by David Saul (another Serpent driver) and Liam Brooks. Leg two and this time Chris wouldn't want a repeat of the previous leg. He would drive faultless to take this leg ahead of Mark in second spot and Dave Saul in third. This meant that Team Serpent would lockout the top three with Mark taking this rounds overall win, Chris second and Dave in third.
P    Driver – Chassis
1    Mark Stiles – Serpent
2    Chris Kerswell – Serpent
3    David Saul – Serpent
4    Liam Brooks – Xray
5    Spencer Jones – Hot Bodies
6    Andrew Robson – Schumacher
7    Malc Hall – Hot Bodies
8    Philip Randall – Hotbodies
9    Daniel Booker – Tamiya
10  Ben Cane – Hot Bodies
A brilliant start to this series which moves on to the Stafford track for round two on 13 May. For more information and details on the series go to www.rcracechat.com or follow the Facebook page (BRCA Clubman's Series 2012).
Source: John Painter