Pro-Line's Ty Tessmann Reports from the Neo12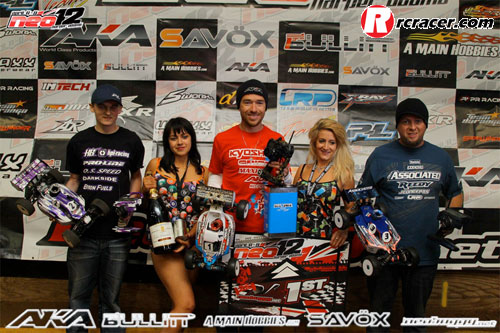 Pro-Line's Ty Tessmann competed at the Neo12 race in Telford, UK held over the week of 6-10 April. This race is one of the biggest races of the year and is likened to an indoor 1:8 off-road Worlds  with all of the top drivers in attendance. Here is his report:
Day one of qualifying held the first three of five rounds. Ty had a very good day taking the top qualifying position in round one, then in round two Ty qualified second overall and then took TQ again in round three, giving him overall TQ for day one. Day two of qualifying, saw us use the last two qualifiers to try some set-up changes that did not work as well as we had thought they would. Ty ended up qualifying second overall and started on the pole in the B semi. Ty's semi went very well and he was able to take the win moving him into the final, but his semi time put him second on the grid for the 45-minute final. In the final things went fairly well, in the first 9 minutes Ty managed to get by Jared to take the lead, Ty came into pit at 9 minutes giving the lead back to Jared which he held until his pit stop at 12 minutes. Ty and Jared pulled away from the rest of the field and battled back and forth, but with Jared doing one less pit stop, Ty was unable to regain the lead. All in all it was a good performance by Ty.
All of Ty's equipment worked extremely well and we want to thank all of his sponsors for their continued support.
Thanks
Ty, Gord and Leann Tessmann
P    Driver – Result
1    Jared Tebo – 81 laps 45m 32.975
2    Ty Tessmann (Pro-Line) – 80 laps 45m 17.427
3    Ryan Maifield – 79 laps 45m 23.539
4    Ryan Cavalieri (Pro-Line) – 79 laps 45m 31.414
5    Ryan Lutz – 78 laps 45m 0.506!
Source: Pro-Line