Kyosho's Elliott Boots Wins at Coventry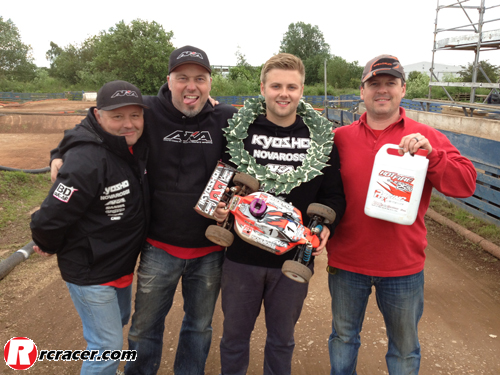 With the weather not looking at all good ahead of round two of the BRCA 1:8 Off-Road National Championship at Coventry, there would be early controversy as participants were advised to bring their Astroturf tyres with them in case the dirt track was unusable and the adjacent all-weather track would come in to play. Whether this within the rules never mattered in the end as the Coventry club did a fantastic job of getting the race meeting going with the help of the DXR boys.
Qualifying
With Kyosho's Elliott Boots commanding performance at Slough, would anyone be able to stop him at Coventry? Well the simple answer was no as he TQ'd three out of four qualifying runs on Saturday to take the overall TQ and back up his Slough performance. Darren Bloomfield (TLR) took P2 with some good runs with Neil Cragg (Associated) third having taken TQ in round five and just being edged out of P2 due to Darren having a quicker run. Lee Martin took fourth with a great performance as he gets to grips with his new Mugen MBX-6 as local hero Graham Alsop (Hot Bodies) would take fifth with a solid performance. Simon Willetts (Mugen) would take sixth spot ahead of Craig Drescher with his Associated whilst Jon Hazlewood (Agama) rescued eighth place with three good runs at the end of qualifying after a poor start by his standards. Associated's Tony Truman secured ninth with a solid drive after his efforts at the European B Championships as Kevin Brunsden (Durango) rounded out the top ten in qualifying. The other drivers that made the semis were John Holmes, Matt Lewis, Chris Doughty, Reece Sawyer, Richard Taylor, Simon Reeves, Michael Lewis, Elliot Taylor, Dave Crompton and Richard Barton.
here was great driving in the lower finals with Adrian Svensson and Jim Boulton tied for the bump-up king award, both bumping up 28 spots from their starting positions.
Semi Finals
The semis were a tough affair with the level being so high this year, on the B side Darren Bloomfield took the win with a fine drive followed by Lee Martin just ahead of his Mugen team mate Simon Willetts. TLR's Matt Lewis took fourth ahead of Agama driver Richard Barton. Simon Reeves (TLR) took sixth spot ahead of Kyosho's Tommy Chung. Jon Hazlewood was the unlucky one, as a broken pressure pipe put pay to his charge – how he drove his car round for 20-minutes is beyond belief.
On the A side it was TQ man Elliott Boots who took the win ahead of Neil Cragg as Graham Alsop took third. A great drive by Tony Truman saw him finish fourth ahead of team boss Craig Drescher. Chris Doughty (Durango) finished sixth ahead of Karl Jackson (TLR) in seventh who bumped from the quarters.
Final
So onto the main final, and basically Elliott Boots checked out and never looked in any trouble for the whole race casually lapping the entire field – in this kind of form in a worlds year, could it happen? If he keeps his feet on the ground it could, he looks like a good shout for the European Championships in Fehring which is a track that suits his style.
So the battle was for second place with Darren Bloomfield and Neil Cragg swapping positions back and forth. Both were on different fuel stops with Neil doing ten-minutes Darren's eight. Both battled super hard with Darren just edging it by two seconds in the end. Graham Alsop was only 12 seconds back from these two in fourth, showing a fresh turn of speed this year. Craig Drescher finished a lonely fifth ahead of Chris Doughty who just edged out a hard-charging Tony Truman. Lee Martin finished seventh not really showing his qualifying pace. Karl Jackson took eighth ahead of his TLR team mate Simon Reeves whilst the final spots went to Tommy Chung took in 11th, Richard Barton 12th, Matt Lewis 13th and Simon Willetts 14th.
Once again a great weekend, and a simply stunning display by Elliott Boots. A massive thanks again to all at CMCC who managed to get this event on in dismal conditions – well done!