Team Associated's Ryan Maifield Wins at AMS 3.0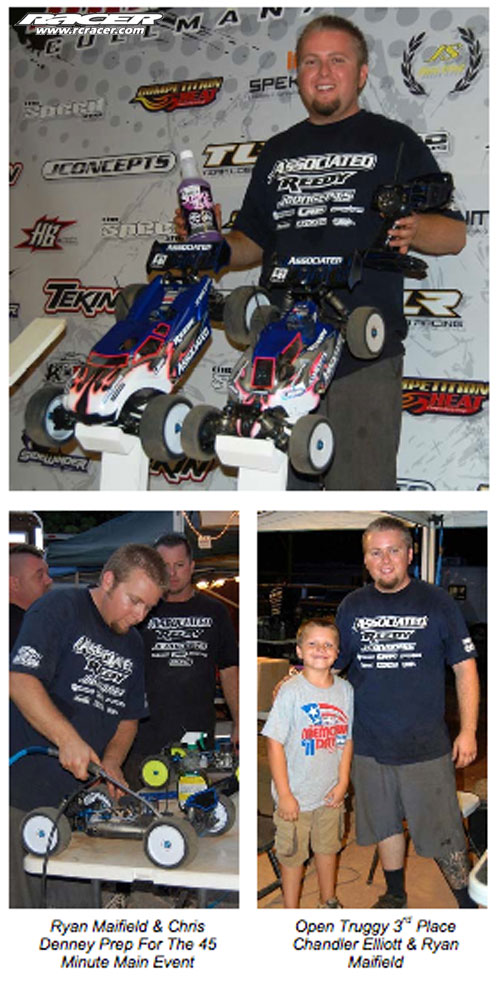 Now in its third year, the Alabama Manufacturer's Shootout has grown in popularity and 2012 was no different. With the reigning 1:8 World Champion and ROAR 1:8 National Champions all in attendance, the competition was as high as it's ever been. With a sweep of the 2011 event, Team Associated's Ryan Maifield was the favourite, even with the elevated competition. With his LRP-powered and JConcepts-equipped Factory Team RC8.2 buggy and Factory Team RC8T truggy, Maifield picked up where he left off in 2011 and set the fastest times in qualifying to secure the top qualifying positions in both Expert Buggy and Expert Truggy for the 2012 event.
At the start of the 45-minute Expert Truggy final, Maifield checked out from the field and built a 15 second plus lead at one point, when an engine cut-out exiting the pits causing Maifield to re-fire and rejoin in third, battling with Adam Drake some 15 seconds down from the leader. With unmatched determination, Maifield put his head down and charged back to the front of the pack, running down the leader Jared Tebo, with just a few laps remaining. The two battled back and forth and entered the last lap just tenths of a second apart. A smooth and confident final lap from Maifield sealed the win and back-to-back Expert Truggy AMS titles.
Still dialled in from his victory in Expert Truggy, Maifield came out strong in the Expert Buggy class with his Factory Team RC8.2 and pulled for an early lead. As he entered lapped traffic, tangles cost him the lead, allowing Jared Tebo to lead by some ten seconds. Again, Maifield put his head down to find the flow he had in the Truggy final and reeled in Tebo, who also had troubles with lapped traffic. The two drivers battled it out in the middle of the race, but Maifield's pace was just too much. As the laps expired with the time counting down, Maifield found himself coming up to lap Tebo. By the end of the event, Maifield finished with 107 laps, Tebo with 105 and third place Cody King at 103 laps. This is the third year in a row that Maifield has taken home the Expert Buggy title at the AMS and it's obvious he was comfortable with his entire package on the challenging indoor Alabama surface.
Congratulations also goes out to Team Associated drivers making the A finals including Ryan Cavalieri (Expert Buggy 14th/Expert Truggy fifth), Michael Paige (Expert Buggy fihth/Expert Truggy 11th/Expert eBuggy), Max Flurer (Expert eBuggy), Mitchell Gardner (Expert eBuggy), David Joor (Expert eBuggy), Justin Cranford (Expert eBuggy), Daimon Borkowitz (Expert eTruggy second) and Greg Antill (Expert eTruggy).
Source: Team Associated