Herts Club to host 2012 Pro-Line International Challenge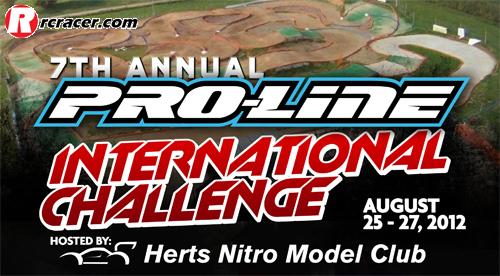 For the first time, the Herts Nitro Model Club will host the seventh annual Pro-Line International Challenge in 2012. Due to the London Olympics, this year's race will switch from the usual Remote World club's venue at Slough to the Herts Model Car Club at Westmill near Ware. Taking place over the August Bank Holiday weekend, the famous event will run on Herts' impressive dirt track. Saturday 25 is set aside for practice and one qualifier, qualifying takes over all of Sunday 26 whilst Monday 27 is for the finals.
Classes include 1:8 nitro buggy, 1:8 nitro truggy and 1:8 electric buggy. Entry fees are £40 for buggy and £48 for truggy with each entry including an event T-shirt. With the event sponsored by Pro-Line, there is a control tyre and these is the Blockade tyre as used by their team drivers Ty Tessmann and Dakotah Phend to finish first and second at the ROAR Nats. The entry fee also includes a set of the control tyres – Pro-Line's Blockade in buggy and the new Blockade VTR in truggy.
Booking in can be carried out online here with more information available on Pro-Line's website here, at CML Distribution or the host club's site here.
Source: CML Distribution