Reckward and Neumann Win German 1:8 Electric Off-Road Nats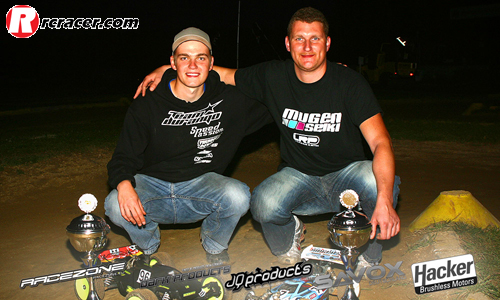 Last weekend saw the first ever 1:8 scale electric buggy and truggy National Championships held at the MRC Senden club in Southern Germany. Being an open championship the race attracted drivers from Germany, Switzerland, Austria and Liechtenstein. The race weekend started with perfect weather conditions and a track surface that started to show signs of a blue groove, but come Saturday the weather turned to its worst as heavy rain converted the track into a mud puddle. As the weather forecast promised sun and warmer temperatures for Sunday the race director canceled all activities (which was four qualifying rounds on Saturday) and decided on two quick qualifiers on Sunday morning.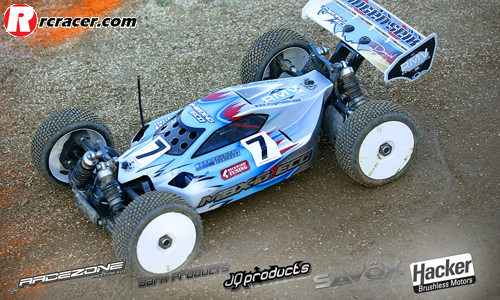 As promised, Sunday morning greeted the drivers with warmer temperatures and a drying track that was perfectly prepared by the Senden club members. In the buggy class it was Daniel Reckward who made the most of the two rocket rounds and took TQ with his Mugen MBX-6 Eco. In the truggy class Kyosho driver Tim Bremicker outperformed Jörn Neumann who drove a Team Durango DEX408T truggy prototype. In the semi finals Jörn was able to improve in the buggy class as he took pole position in front of Daniel Reckward for the 15 minute final. In truggy, Tim conserved his performance and took pole from Jörn.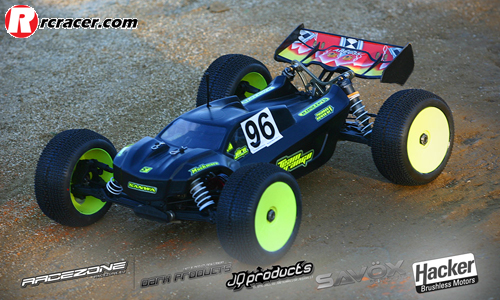 Come the buggy final it looked like Jörn would be able to control the race but pressure from Daniel and a driving error around the eight minutes mark cost him dearly as he not only lost his concentration but also second and third place as he finished in fourth position after the 15 minute race. Daniel was able to cruise to the victory and the German Championship title with Carsten Keller (Kyosho) and Patrick Hofer (Team Associated) in second and third place.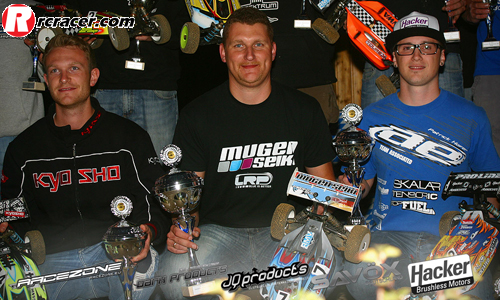 The following truggy final was a much closer affair right from the start. First placed Tim Bremicker was hard chased by Jörn and while Gerd Strenge's Team Durango prototype went up into smoke due to a dying speed controller, Jörn made use of the confusion and overtook Tim. The Team Durango pilot then shifted into second gear and controlled the field until the end of the race. Tim was able to retain second place although he had his moments during the closing stages of the race. Kyosho team mate Carsten Keller took the remaining spot on the podium.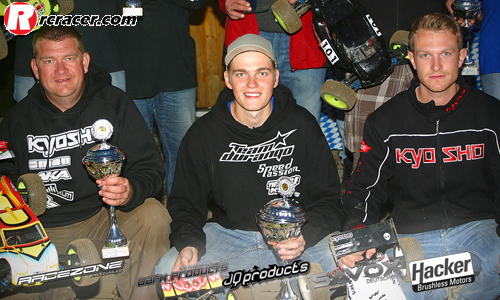 Result – Buggy
Pos  Driver – Chassis/Motor/ESC/Battery – Result
1       Daniel Reckward – Mugen/LRP/LRP/LRP – 25 laps 15:19.6
2       Carsten Keller – Kyosho/Orion/Orion/Orion – 25 laps 15:25.6
3       Patrick Hofer – Team Associated/Hacker/Hacker/Hacker – 25 laps 15:29.5
4       J̦rn Neumann РTeam Durango/Tekin/Speed Passion/Thunder Power Р25 laps 15:30.1
5       Hannes Käufler – TLR/Hacker/Hacker/Hacker – 25 laps 15:38.5
6       Alex Hardt – TLR/LRP/LRP/LRP – 24 laps 15:07.3
7       Stefan Scheuenpflug – S-Workz/LRP/LRP/LRP – 24 laps 15:11.4
8       Markus Metsch – Team Associated/Hacker/Ace/Reedy – 24 laps 15:13.0
9       Tim Bremicker – Kyosho/Orion/Orion/Orion – 24 laps 15:13.3
10     Maik Wiesweg – Mugen/LRP/LRP/LRP – 24 laps 15:23.3
11     Ralf Dennenmoser – TLR/Hacker/Hacker/Hacker – 24 laps 15:29.4
12     Chris Kamman – Team Associated/Ace/Ace/Reedy – 24 laps 15:32.9
Result – Buggy
Pos  Driver – Chassis – Result
1       J̦rn Neumann РTeam Durango Р25 laps 15:34.6
2       Tim Bremicker – Kyosho – 24 laps 15:10.8
3       Carsten Keller – Kyosho – 24 laps 15:18.3
4       Frank Lemke – Kyosho – 24 laps 15:25.2
5       Kim Sitensky – Kyosho – 24 laps 15:29.5
6       Stefan Reinartz – Thunder Tiger – 23 laps 15:28.3
7       Dirk Drechsler – Mugen – 23 laps 15:34.9
8       Edvin Yousefian – TLR – 22 laps 15:20.0
9       Uwe Chwalek – Team Durango – 20 laps 14:58.7
10     Dietmar Missel – Team Associated – 20 laps 15:18.5
11     Julien Schmidt – Mugen – 19 laps 12.53.5
12     Gerd Strenge – Team Durango – 8 laps 4:42.920
Source: RaceZone