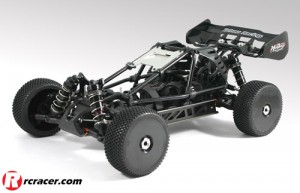 The new HoBao Cage buggy uses the new Hyper SS chassis platform and features a complete aluminium roll cage similar to some of today's single seater full-size buggies. The lightweight and impact resistant cage can be hinged forward quickly with the simple removal of four screws providing quick access to the chassis and engine components.
There are two options with the Cage – electric and nitro. With the electric rolling chassis, you are free to decide what electronic package is best for you and your budget. Underneath the roll cage you will find a chassis that can accommodate most of today's current crop of high performance brushless motors, speed controllers and LiPo batteries.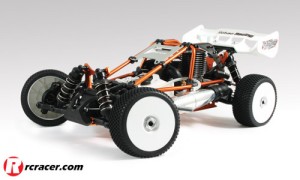 With the nitro version, underneath you will find high quality Savox servos as standard along with the powerful HoBao MachStar 28 engine and polished tuned pipe. Colour coded, anodised aluminium chassis parts complement the roll cage assembly for an eye catching look. The newly design front C-Hub suspension assembly, along with 17mm big bore shocks soak up all that is in their path, while the oversized 150cc fuel tanks provides you with plenty of runtime.
HBCBE   HoBao Hyper Cage Electric Buggy    £229.99
HBCB-S28B   HoBao Hyper Cage Nitro Buggy – Black/Black     £349.99
HBCB-S28RG   HoBao Hyper Cage Nitro Buggy – Orange/White  £349.99
Source: CML Distribution