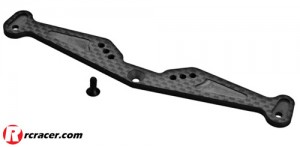 The first new item from JConcepts is for the Team Associated SC10. The carbon fibre front body mount reduces the body mount flexibility. Heavy-duty but light-weight, 3mm carbon fibre is used at the base of the design which follows along the geometry and stock mounting holes on the SC10 front shock tower. Recessed portions allow for the adjustable mount towers to drop straight into place.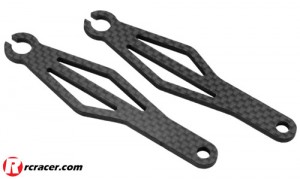 The second item is also manufactured from carbon fibre and is a new battery brace for the Team Associated B44.2 4WD buggy. The Monroe battery brace is constructed in genuine 2.5mm carbon fibre material with a slim and light-weight design that allows it to swing out through 90-degrees. Security is provided by utilising the stock hardware with the pivot ball used in the rear and lever/latch system in the front.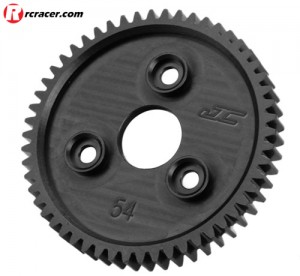 Finally, there is a new .8 mod 54-tooth Silent Speed machined spur gear for the Traxxas Slash 4×4, Stampede 4×4 and Rally. ·These are of a simple design and function, and are precision machined for durability with a concentric design, and include the size of the gear on the face.
#2233 JConcepts SC10 Carbon Fibre Front Body Mount
#2188 JConcepts B44.2 Monroe Carbon Fibre Battery Brace (2)
#2154 JConcepts .8M, 54T, SS Machined Spur Gear
Source: JConcepts