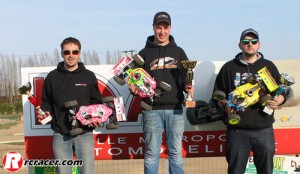 Team Serpent driver Jonathon Bacro reports from France:
This weekend we had a club race with some top guns like Jérôme Sartel and Belgium top driver Raphaël Robert. The track was wet and none of the drivers were able to practice before the race. I TQ'd the first round easy, but I noticed the line clean up. I switched to harder dampening (+100) and different pattern tyres and TQ'd again in round two with a very good and easy o drive car. I was trying a different set-up, (shock position) for round three, but the car became hard to drive and I rolled several time and didn't take TQ. With the temperature rising, I stiffened the shock oil again and we re-adjusted the rear toe-in taking 0.5 of a degree off.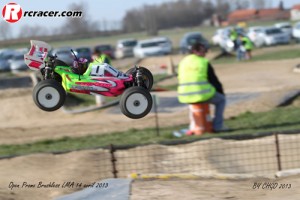 I went through the semi final easy : the car was really comfortable to drive even in tough track conditions. I won the semi and took number one for the A final. We didn't change anything on set-up for the  main final, and I was optimistic as we had better fuel mileage and planned to pit only three times. I rolled just after the start and I had to fight for the position three. Jérôme and Raphaël were fighting for the lead. When these two pitted, I took the lead and I had to fight with Jérôme. Jérome had a crash and I was able to create an eight-second gap until the 27th minute. I had one bad lap with two crashes and Jérôme caught me and we had to fight during the two last lap. At the end, I crossed the line 0.24 of a second ahead – that was a crazy battle!
Source: Serpent