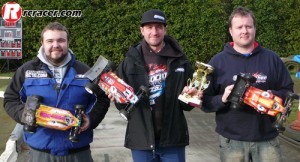 The first round of the 2013 BRCA 1:10Off-Road Nationals at Kidderminster continued on Sunday with the 4WD event. The track layout had been changed overnight, giving plenty of flick-flack chicanes to test a car's change of direction. Combined with the continued wet weather this made for some spectacular slides.
The track started wet and slimy for practice and did dry out somewhat over the first three rounds, but it was a slow process. And just as the track was starting to give better grip, the rain came down heavily again for the final round of qualifying and the finals.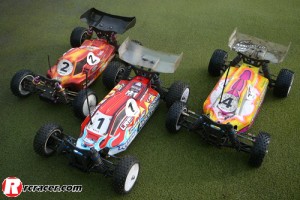 Pole position went to Neil Cragg (Associated/LRP/Reedy) with Simon Moss (Schumacher/Speed Passion) again in second place ahead of Lee Martin (Tamiya/Viper/Speed Passion), Tom Yardy (Associated/Centro/Savox/Reedy) and Danny McGee (Schumacher/Nosram).
Neil Cragg was untouchable in the finals, taking all three legs to start his championship defence in style.  Simon Moss had a couple of second places to make second overall and Tom Yardy finished off the podium after a fine drive in the last leg to seal third place.