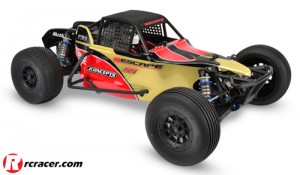 JConcepts is quick to market the first aftermarket body for the popular Team Associated SC10B vehicle. The first thing you notice on the body is its narrowed front-end which tucks nicely against the chassis geometry. The increased front tuck tightens up the large gap in-between the chassis and stock SC10B body making the Escape a superior jumping body with its first heavy detail. Just above the tucked portion, in front of the cockpit area, rests a reverse scoop giving an area to trim for more air-relief. A small ledge entering the cab guides the air slightly further than the original body while the main side pods have chiseled ducts that wrap around the bolt-on plastic caging. Just behind the roll cage area, number plates are built into the body giving the body a slightly raked look and appropriate place for small racing numbers.
The rear bolt-on bumper skirt the rear of body slightly more than stock, allowing the Escape to flow front to back as a pure racing inspired body. In addition, each Escape body includes a ground-up JConcepts driver pit, which highlights control panels, shifting exploits and a suited up race driver which features seat-belt and suit details. The rear of the driver pit places a raised panel section emulating an engine compartment with cooling bits scattered across to bring excess realism to the body.
Finish off the Escape body and driver pit with included Escape decal sheet and complete the driver pit by installing the (not included) stock AE helmet to the JC driver pit.
#0257        JConcepts Escape for SC10B
Source: JConcepts