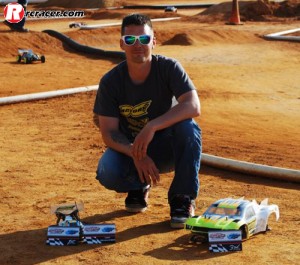 Thunder Alley Raceway held a trophy/cash race weekend on 13-14 April and X Factory team driver Mark Samuelson did very well indeed in mod buggy and 2WD short course. Mark TQ'd buggy with a time more than a lap faster than second on the grid, his prototype X–6 Cubed turning in a 44-second laps on the huge outdoor gas track. Thunder Alley is an made of North Carolina red clay, very loose on top for the 1:10 electric guys, Samuelson ran away with the win in mod buggy and had this to say:
"All I can say is wow on consistency with the Cubed. The car handled the bumps, big jumps, and loose conditions with ease compared to the other cars, and the Cubed is even better than the Squared."
In short course, Mark's beautiful all carbon fibre SCX–60CF qualified third. Mark worked his way up to second, but a next-to-last lap altercation pushed him down to fourth; he was able to re-gain third on the last lap to make the podium.
Source: X Factory