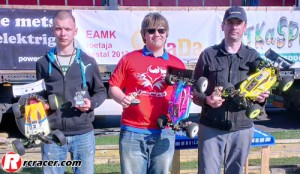 Here is the report of the first round of the Estonian Nationals where Rainer Ressar won the 1:8 E-Buggy class:
The first round of the Estonian Nationals took place at Tallinna Laulaväljak on a temporary grass track. The track featured some jumps and was very fast, most of the corners were very wide and very grippy. The day consisted of free practice, three rounds of qualifying and three leg finals.
Having not raced on grass before and having a new car I was a little skeptical with the outcome of the day, but after the free practice I was very pleased with the whole package. Qualifying went quite smooth, we put the Blade Evo SF on the car and the tyres didn't disappoint as usual. I got TQ with a one lap gap.
As the day went on the track started to get faster, so in the first final I was quite surprised by the pace of the other racers. At the start I lost my lead and after a little coming together I dropped to the back of the pack and had to start fighting back. In the last minutes I got the lead back and won. The second final was quite bad. At the start someone jumped and drove into me and dropped me to the rear again. This time however, I couldn't get back to the front but I managed to get second. Before the start of the third final I had three points and Anre Tanme also had three points. I tweaked my speed control a little bit and managed to take an easy win, leading from start to finish.
1. Rainer Ressar – Durango/GensAce/VP Pro
2. Anre Tamme – Serpent/Reedy
3. Tõnu Tooming – Durango/Turnigy
4. Kuldar Ilus – TLR/Mamba/Pro-Line
5. Viljar Kask – Durango/LRP/VP Pro
Source: VP Pro