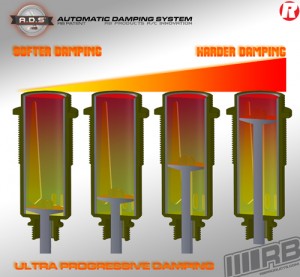 Developed in close collaboration with Italian company Fioroni for two years, RB are proud to release a new innovated shock system that makes your shock absorber ultra progressive with automatic harder damping. ADS uses a special V design sleeve combined with a CNC piston without holes that allows the oil goes up and down with an ultra progressive oil flow. This is how it works:
Compression – the piston is at the bottom position. At the beginning, the V shape is big and the damping is soft. When the piston goes up into the shock body, the V shape becomes smaller and the damping becomes harder. The damping is ideal during the piston travel.
Extension – the piston is at the upper position (small V size area) and the damping is hard. When the piston goes down, the V shape becomes larger and the oil flow is increased which lets the piston return quicker to its bottom position.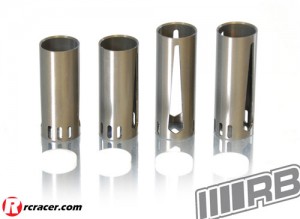 The actual big bore shock absorbers are better for damping, but become less reactive because of the diameter of the pistons and large amount of oil flow. With ADS, the sleeve reduces the inside diameter and it makes the piston travel becomes more reactive too.
02013-004 Automatic Damping System – Mugen MBX-7
02013-005 Automatic Damping System – RB One R
02013-006 Automatic Damping System – Kyosho MP9
02013-007 Automatic Damping System – TLR 8ight 3.0
02013-008 Automatic Damping System – Xray XB9 Spec 13
02013-009 Automatic Damping System – Xray XB4
02013-011 Automatic Damping System – SWorkz
02013-012 Automatic Damping System – Agama
02013-013 Automatic Damping System – Serpent
Source: RB Products