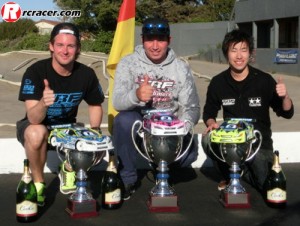 The TRF (Tamiya Racing Factory) drivers put in an awesome display to dominate the podium at the 2013 Reedy Race of Champions Invitational class held on 23-26 May at Nor-Cal Hobbies in California, USA. Racing the V5 edition of the TRF417 chassis, Marc Rheinard took home a well-deserved victory and was followed in second place by rising Japanese star Akio Sobue with last year's champion Viktor Wilck making it a TRF clean sweep under the watchful gaze of mechanic Kiyokazu Suzuki.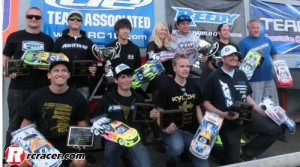 The Reedy Race line-up included 17.5T and 13.5T motor touring car classes and an F1 class, but the star of the show is traditionally the Invitational class which is only open to a select few drivers invited by the event organisers. The pressure-cooker atmosphere of the format sees eight races with a new grid order each time: every corner of every race is vital to the drivers and consistently high finishes are the order of the day.
With the cars running on unfamiliar control tyres and taking into account the sugar watered track, car set-up was always going to be tricky, and the TRF drivers took advantage of the first half of the race week to get to know the Nor-Cal circuit, with timely feedback from Suzuki helping to get the cars in top shape. And when the racing started, Marc showed that the testing had been worth it as in a blistering display of driving he won five of the eight rounds finished second in the other three.
All told, TRF drivers competed in 15 of the 16 races, winning 11 of them with Viktor and Akio taking three apiece to add to Marc's five. Akio may be an unfamiliar face to international race watchers, but he is a rising star in the world of Japanese RC touring car races, a fact confirmed by a recent victory in a domestic meet.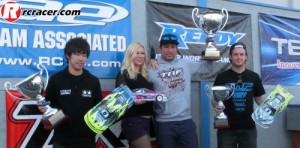 With next year's IFMAR Touring Car World Championship looming on the horizon and Tamiya gunning for an unprecedented fourth consecutive victory, Tamiya's driver line-up of reigning World Champ Jilles Groskamp, Marc, Viktor and Akio is looking strong.
Result – 2013 Reedy Touring Car Race of Champions
1. Marc Rheinard – Tamiya TRF417 V5
2. Akio Sobue – Tamiya TRF417 V5
3. Viktor Wilck – Tamiya TRF417 V5
4. Christopher Krapp – Kyosho
5. Paul Lemieux -Xray
6. Rick Hohwart – Associated
7. Keven Hebert – Associated
8. Eric Albano – Associated
9. Juho Levanen – Associated
10. Tyler Vik – Yokomo
Source: Tamiya