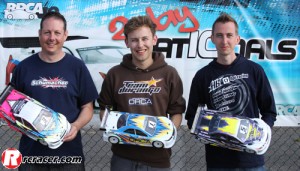 Round two of the 2013 BRCA TC Series took place at the Stafford track at a venue that has been off the calendar for a number of years, but was welcomed back by many drivers. Pre-event testing by the top teams and many other drivers soon made it clear that tyre wear was extremely high and tyre management and strategy was going to be a crucial factor. It was soon apparent on the Saturday that Elliott Harper with his Team Durango DEX410TC prototype was the pace setter, setting blistering times in the first qualifying rounds. The usual likes of Olly Jefferies, Andy Moore and Chris Grainger were also going strong. Another driver going really strong was the young Schumacher driver Sam Clifton. After five rounds of qualifying it was Elliott who took TQ after an awesome qualifying performance. Olly Jefferies for Associated would be second with Chris Grainger of Schumacher getting his 2013 campaign back on track with a third place position. The finals saw Elliott check out in all three legs, showing that he had saved two sets of the allocated three tyres for the finals. Andy Moore was able to work his way up to second place in legs one and two, but due to having to come through the field was unable to mount a challenge to Elliott. Unfortunately for Olly, the finals didn't go so well with an incident in leg one and two meaning he wouldn't be able to challenge for a podium position overall. Chris Grainger was able to secure third overall after consistent runs in legs two and three.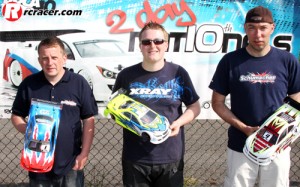 In the 13.5T Pro Stock class, the racing at the front was super competitive between Zak Finlay and Andrew Robson involving a number of incidents between the two. However, race control deemed these to be racing incidents and it was Zak Finlay who was able to take the overall win followed by Andrew Robson and Schumacher's Mark 'Waldo' Wallace who is Chris Grainger's pit man who completed the podium in third.
The BRCA would like to thank the Stafford crew for all their hard work preparing the track and facilities leading up to the event. The series now moves on to the fabulous West London track.
Source: BRCA