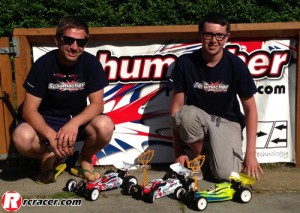 This weekend was the third and final round of the inaugural oOple Off-road Open Series. Having already visited Stotfold and RHR, sunny Southport was the host of the final round. The 4WD championship was already decided with Tom Cockerill taking wins in the opening two rounds, but 2WD was a three-way battle between Schumacher's Greg Williams, Tom Cockerill and RHR boss James Helliwell.
As usual, Saturday morning would see open practice allowing everyone all the track time they could wish for to get their cars dialled in to the high grip Southport track. The track was excellently prepared by the Southport crew and the layout was fast and challenging, which would make for some good racing come the finals.
Once practice was over, four rounds of qualifying started, with a fifth and final round on the Sunday morning. In 2WD qualifying was very close with Mathew Latham taking the first two rounds until Tom Cockerill got his act together to go quickest in the next two and importantly in a quicker time to hold the overnight top spot. Sunday morning would see Chris Evison take the final round in the quickest time, to take third on the grid, lining up behind Tom and Mathew, and in front of the current championship leader Greg Williams. James Helliwell didn't have the greatest luck in qualifying, only lining up ninth on the grid, but with it all to play for in the finals his championship battle wasn't yet over.
In 4WD again we saw three different drivers take rounds of qualifying as Tom Cockerill who took the opening two rounds who would line up on pole for the finals, his quickest time been some four seconds quicker than anyone else. Mathew Latham took two round wins on his way to second on the grid and James Helliwell took the other round to get himself into third.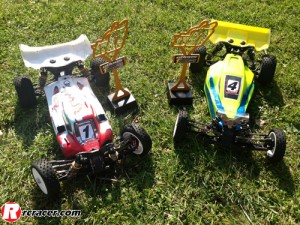 The 4WD finals saw Matthew Latham take the win with some excellent driving as James Helliwell ended up second and Ben Jemison completed the podium in third. Tom had some driving errors seeing himself fall down the order. However, with the championship already sewn up it was 2WD that really mattered on the day.
The 2WD finals again saw Mathew Latham take the win with victory in the first two legs. Going into the third and final leg it would be the decider for the title between Tom and Greg. Tom led away from the front, but a mistake coming on to the straight saw him drop down the field. Greg followed the leaders round in third place with a sensible drive, knowing it was all he needed to do to take the championship.
That brings the end to a successful oOple series for 2013, with Schumacher winning both 2WD (Greg Williams – SV2 ) and 4WD (Tom Cockerill – K1) championships, winning four rounds of the series with four TQs along the way.
Source: Schumacher