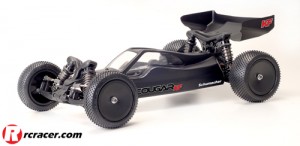 The KF from Schumacher is their third 2WD buggy under the current range of Cougar models that focuses on tracks with very high traction such as carpet and Astroturf circuits. The key feature of the KF is its forward motor position that further changes the characteristics of a conventional mid-motor 2WD chassis.
The original prototype KF cars were unexpectedly used at the recent IFMAR World Championships and set top ten times whilst it also took TQ at the opening round of the EOS with Tom Cockerill.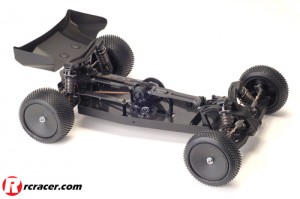 The chassis is based on a 2.5mm double deck design with a low maintenance gear diff, belt drive transmission, big bore shocks and 12mm hex front and rear wheels. Interesting things that can be observed on the KF are the front and rear shock tower covers that protect the 4mm aero space carbon fibre brackets, as well as the maximum dimension wing, which works in tandem with the new AirFlo Cab body shell. The chassis can accept either regular saddle packs or a short LiPo. In keeping with the latest models from the UK manufacturer, this car also sports a black theme that was first seen on the CAT K1 4WD.
Source: Schumacher