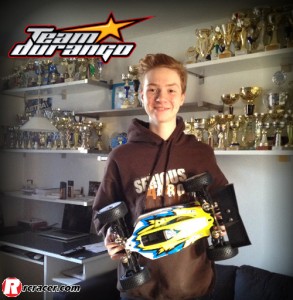 Young Czech racer Kaja Novotny has quickly developed into an off-road RC success story. Having won his first racing trophy at the age of eight, Kaja, with the support of his father Karel, has ascended the ranks of European off-road racing with a rather enviable reputation for multiple podium places at the meetings he attends. So far he has won 562 racing trophies – are we seeing the rise of a future European Champion?
Kaja, often referred to as Charlie by his friends in the UK, has been representing Team Durango for a few years, and during this time has carved a winning record that some racers struggle to achieve in a life-long career behind the radio transmitter. Team Durango thought it was the perfect time to sit down with Kaja and ask him some questions about his relationship with not just the world of RC, but Team Durango products. Kaja is a real inspiration to young racers all over the world, and his commitment to taking Team Durango products to the winners spot make him a great ambassador for our brand. Kaja answers our questions with the poise and maturity of a racer who is decades older than his years.
Team Durango: At what age did you win your first RC trophy?
Kaja Novotny: I won my first RC trophy when I was eight. It was my second RC car race, when I won junior class in stock touring car.
TD: How many RC trophies have you won since your career started?
KN: I had to count them to answer this question, and the answer is 562. More than half of them I have won with Team Durango cars.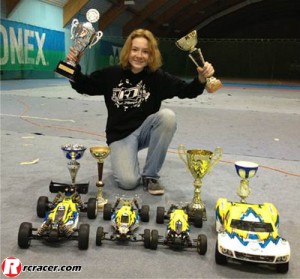 TD: Who got you interested in RC racing?
KN: It was my Dad. He took me to the Lestr cup race in Cezch Republic to show me how the race looks and asked if I wanted to try it. I said yes, and my father bought me a Tamiya RTR car. A few weeks later I took part in my first race.
TD:  What is your favourite Team Durango product and please explain why?
KN: It's difficult to say as I like all of them and would like to keep all of them, but what I really love is the DEX 410. It was my first Team Durango car and it bought me many good results, which would be difficult to get without such a perfect car. I always liked to drive RC cars, but since I have got it, I really enjoy it. Also, as it is the "oldest" Team Durango car so we are quite familiar with it, know how to set the car for different track conditions, which is a great advantage. Another great thing is that the 410 DNA remains basically the same as it was in the beginning, with a wide range of performance enhancements, which make it better every version update. It is still the fastest 4WD buggy in the world. When we got the first one, father said that it is the only racing car out of all RC buggies. I tend to agree.
TD: When you are racing, for the five minutes what goes through your mind as you are driving?
KN: I just think about each corner and jump, try to concentrate just on my car. I always try and find a little time to check on the progress of my rivals.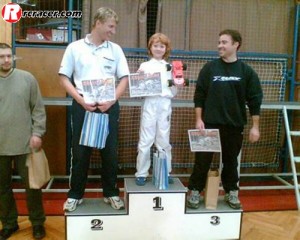 TD: How often do you work on your cars away from the track?
KN: That is a little problem as I am really busy with school. My Dad helps out lots with preparing my cars. When I am home I also get involved, but usually I am studying. Next year I will have more spare time as I have chosen to drop some subjects at school. This means I will be able to focus on my best school subjects and get more involved with my Team Durango cars. I am really looking forward to this.
TD: Who is your favourite RC racer of all time and why?
KN: Probably no one will be surprised when l say that it is Jörn Neumann. He is really great person, helps us a lot on each race when we are together. I mainly respect him for his ability to drive on the edge in so many different classes and being everywhere on the very top. In 1:10 2WD and 4WD buggy, 4WD short course, 1:8 electric buggy and truggy, 1;8 nitro buggy and truggy, he performs at the highest level in every class!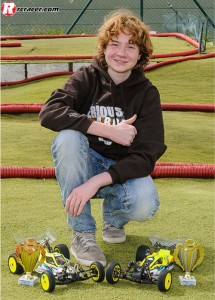 TD: Your father is a huge part of your RC racing career. Please explain how he supports you both at the race meetings you attend and when you are away from the track?
KN: I couldn't race without my father and I wouldn't have even begun. As I said, I am often busy with school and the preparation of the cars is down to him. He also has to work on the cars during race meetings as I usually drive three classes. I mostly drive or marshal, but when I don't I try to help. Father also gives me advice as he can watch other racers and tell me where they are faster. When we are not at races, we mostly still discuss RC cars, but more about what is happening in the world RC scene than about us.
TD: What is your favourite school subject and why?
KN: I love English. As I speak a lot with my RC friends from other countries, school tests and conversations are easy for me.
TD: What RC race would you most like to win and why?
KN: I have always dreamt of attending the Reedy Race and to win such a race would be really awesome, but, dreams are dream s and I don't think so that this one would come true. And why you may ask? The Reedy Race is the race of the best drivers in the world, it would be great to be champion of champions.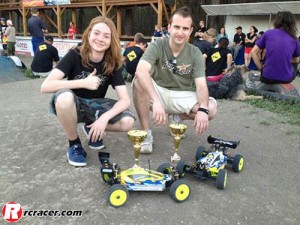 TD: Describe Team Durango in just four words?
KN: Winning, durable, co-operative, friendly.
TD: What are your plans for your racing future?
KN: I would like to continue racing as long as I will have free time to spare. If it is possible, I would like to go more often to bigger races in other countries.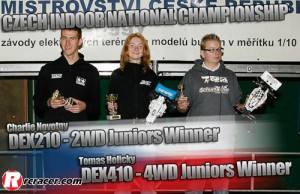 Kaja wanted to share these words with his fans and Team Durango racing colleagues:
"I would like to thank Team Durango, my parents and sponsors for the support which I appreciate very much and fully realise how much they are doing for me especially now, during this difficult period of the world economy. A special thanks to Rob Hopkins from Team Durango, because it is thanks to him that I am here. He decided to support me when I was an unknown kid from a small country in Eastern Europe. This I will have always in mind and both of us, my father and I, are trying to give help to other kids as much as we can. And last but not least I have to thank to Gerd Strenge, firstly for designing such a great cars and secondly for his help and advice during EOS races"
Team Durango would like to send their thanks to Kaja and Karel Novotny and wish them well for the rest of 2014.
Source: Team Durango