Round five of the BRCA 1:12 Nationals took place last weekend and for the first time an event of this level was held in a large shopping mall. The Centre:MK played host to what many are already dubbing as 'the best 1:12 national for more than 20 years'. Crowds two or three deep surrounded the 28x14m carpet track for the entire weekend, and there were also other exhibits and attractions on offer to engage the public with RC racing. The whole event was streamed live on the internet and with commentary provided by full-size motor racing commentary legend John Hindhaugh, it all came together to make for an enthralling spectacle.
Saturday
On Saturday in the LMP12 10.5T stock class, David Spashett was top qualifier with his Zen-Racing RS12 chassis. Privateer Yokomo runner Matt Varah joined David on the front row, with the Reedy and LRP-powered Xray of Olly Jefferies third. The A final was a race of two halves with the lead trio circulating very closely for the first four minutes. Several changes of lead occurred, but at about half distance a coming together between Olly and Dave allowed Matt Varah to pull out into an unassailable lead. Matt crossed the line to take his first ever BRCA National win with David second and Olly third.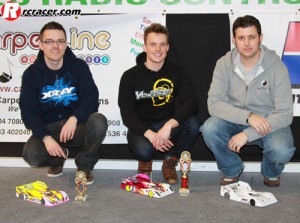 In LMP12 13.5T it was a two-horse race. The Orca-powered CRC of Leigh Dibble came out on top with TQ and the win ahead of the Associated car of Keith Robertson. Andy Sawyer finished third for Corally/LRP.
GT12 saw another maiden win, this time for Alex Thurston who fended off Chris Ashton's Schumacher for much of the A-final. Sam Clifton finished third to make it an all-Schumacher podium. You can re-live the action from Saturday by watching the video feed below:
Sunday
On Sundays the drivers fit hotter motors to their cars and in the fastest class of all, LMP12 open modified, it was the Xray of Olly Jefferies which utterly dominated. Top qualifier by more than half a lap, Olly cruised to a comfortable win in the A final and lapped everyone except the battle for second place which raged for more than seven minutes between Chris Kerswell and Mark Stiles. Mark held his nerve for the entire race and crossed the line second with his LRP and Reedy-powered Yokomo R12C3. Chris Kerswell finished third for Serpent/Hobbywing.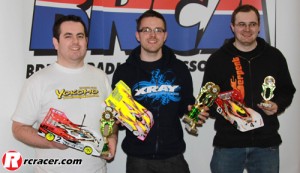 The LMP12 sport class is for motors up to 10.5T so effectively the same as the 10.5T stock class from Saturday. The A final in this class was an absolute belter with pole-sitter Keith Robertson, Mark Jewitt and Jim Spencer battling closely for the entire race. Eventually it was Jim who won with his Zen-Racing car ahead of Keith and Mark, who were both driving Associateds.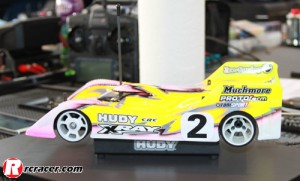 In GT12, Karl Dransfield returned to the nationals and won the A final for Mardave. He beat the Schumacher cars of Jamie McDonagh and Sam Clifton into second and third places respectively. You can re-live the action from Sunday by watching the video feed below:
Full results are available here. BRCA national event info and other information can be found on the BRCA website here. A huge thank you has to be made to all of the competitors, organisers, officials, exhibitors and media professionals for all of their hard work in making this such a hugely successful event. It is hoped that the event can be repeated again next year.