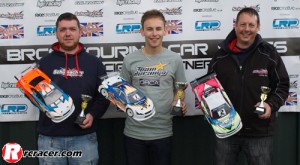 Round one of the 2014 BRCA TC Nationals was held this past weekend at the West London circuit situated near Heathrow airport.  Known as the home of touring car racing by many of the UK drivers, it is one of the more technical and challenging circuits on the series calendar.  Before the event all the talk was on how the weather would treat the drivers, and it decided to be somewhat cruel by giving all the drivers challenging and mixed weather conditions throughout the weekend.
In the Super Touring class the weather changed mid round washing out any hopes of the top heat drivers getting a good opening qualifying score to their names.  Making the most of the weather upsetting the top heat drivers was the up and coming twelve year old racer Harley Eldridge with her T.O.P chassis.  One to watch for the future as she is making outstanding progress in the Super Touring class.  In round two, Elliot Harper and his Orca powered Durango DETC410 secured TQ followed by the Schumacher pairing of Colin Price and current UK champion Chris Grainger.  After five rounds of qualifying it was Elliott Harper who took TQ ahead of Chris Grainger and Colin price. The top ten after qualifying was as follows:
1. Elliott Harper
2. Chris Grainger
3. Colin Price
4. Olly Jefferies
5. Ashley Wiffen
6. James Hart
7. Matthew White
8. Andy Moore
9. Stefan Chodzynski
10. Brian Eldridge
In first two finals, Elliott was able to convert his TQ into two wins followed by Chris Grainger who was not far behind in both legs.  In the final leg Elliot suffered a retirement but having already secured two wins, this did not affect him taking the win overall.  Colin price was able to win the third leg which would give him second overall in front of team mate Chris Grainger. The top ten after three finals was as follows:
1. Elliott Harper – Team Durango
2. Colin Price – Schumacher
3. Chris Grainger – Schumacher
4. Olly Jefferies – Xray
5. Andy Moore – HB
6. James Hart – Xray
7. Ashley Wiffen
8. Stefan Chodzynski – HB
9. Matthew White – Schumacher
10. Brian Eldridge – TOP Racing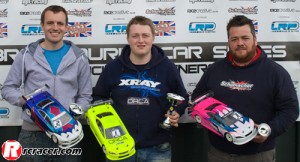 In the 10.5T pro stock class the weather also played havoc affecting qualifying dramatically in some rounds.  But it was the current UK champion Zak Finlay that got his 2014 campaign off to a great start by securing TQ and winning all three legs with his Orca-powered Xray T4'14.  Tony Broad was next up converting his second place grid position into three solid second place finishes.  Lee Price and his Schumacher Mi5 took the final step of the podium in third place. The pro stock top ten overall result was:
1.Zak Finlay – Team Xray
2. Tony Broad
3. Lee Price – Schumacher
4. Ben Putt – Capricorn
5. Chris Gunter – Schumacher
6. Nathan Wilson
7. David Usher
8. Mark Wallace – Schumacher
9. Tim Langdell – Team Xray
10. Leigh Dibble – Team Durango
The BRCA would like to thank all the drivers for taking part this past weekend and battling through the difficult weather conditions encountered.  Also a special thanks goes to the West London club for being fantastic hosts!  See you all at round two in Halifax.
Thanks to Stefan Chodzynski for the report.