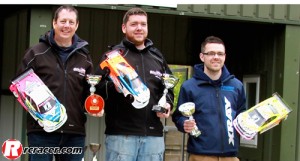 Round two of the 2014 BRCA TC Nationals took place this past weekend at the Halifax track situated in Yorkshire. The Halifax track is the largest track the series attends on the 2014 calendar and horsepower is regarded as a crucial factor in both classes. However, the weather this past weekend was cruel to the drivers with rain descending on the superb facility the whole weekend. But if we were going to have a really wet national, Halifax with its new covered pitting area was possibly the best venue in the UK to host it. Conditions proved to be very difficult and mixed for drivers in both classes with very little grip and forward drive reported on the wet and greasy surface.
In the super touring class, it soon became apparent that the Schumacher team had found something in the difficult conditions to give them the edge they needed over the rest of the competition as Chris Grainger and Colin Price secured first and second on the grid respectively. Third place would go to Olly Jefferies with his Xray T4'14. Round one winner Elliott Harper would line up fifth for the A final with his Team Durango DETC410.
Qualifying – Super Touring
1. Chris Grainger – Schumacher
2. Colin Price – Schumacher
3. Olly Jefferies – Xray
4. Chris Kerswell – ARC
5. Elliott Harper – Team Durango
6. James Hart – Xray
7. David Bowen
8. Alan Bickerstaff – Team Associated
9. Stefan Chodzynski – HB
10. Matthew White – Schumacher
In the first leg of the final Colin Price was able to take the win from team mate Chris Grainger as Chris Kerswell brought his ARC home in third. In leg two Chris took the win from first on the grid and Colin second. James Hart with his Xray making good ground in this leg finishing third from starting the race sixth on the grid. In the final leg Chris Grainger made an unfortunate mistake that would see him retire, which allowed Colin Price to drive his Schumacher Mi5 to victory and win overall. Olly Jefferies was able to finish second in this leg that would secure him third place overall on the podium behind Chris Grainger in second.
Result – Super Touring
1. Colin Price
2. Chris Grainger
3. Olly Jefferies
4. Chris Kerswell
5. Elliott Harper
6. James Hart
7. Stefan Chodzynski
8. Matthew White
9. Alan Bickerstaff
10. David Bowen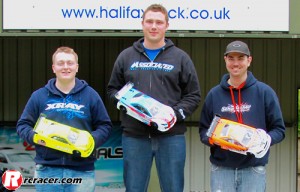 In the pro stock class TQ went to Zak Finlay with his Xray T4'14. Chris Gunter with his Schumacher secured second on the grid and Lee Price put his Schumacher MIi5 third. The finals saw lots of action and close racing in very difficult conditions, which as a result led to some mistakes by drivers. Chris Clark was able to benefit from this and took his Team Associated to the overall win from fifth on the grid, after showing great speed and talent in the wet conditions. Zak Finlay would come second overall with Chris Gunter taking third.
Result – Pro Stock
1. Chris Clark – Team Associated
2. Zak Finlay – Xray
3. Chris Gunter – Schumacher
4. Jimmy Maddison – VBC Racing
5. Nathan Wilson – ARC
6. Darren Lee – Schumacher
7. Lee Price – Schumacher
8. Shaun Ogden
9. Tony Broad – Capricorn
10. Ben Putt – Capricorn
A massive thank you to everyone involved at the weekend, the drivers who showed great resolve and battled with some extreme conditions and to the Halifax club, who made the section feel very welcome and supported us throughout the weekend.