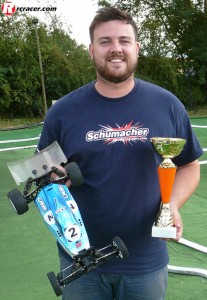 Round five of the 2014 BRCA 1:10 Off-Road National Championships were hosted by Stotfold Model Car Club in Bedfordshire. The all Astroturf track has had some resurfacing since we were here last time so the grip now feels even higher then before. The 2WD event saw a heavy rain shower just after practice but it didn't affect qualifying at all which thankfully managed to be completed in the dry.
It was Simon Moss who pipped Schumacher team mate and championship favourite Darren Bloomfield to the pole position with Elliott Boots (Kyosho), Tom Cockerill (Schumacher) and Kevin Lee (team C) next up.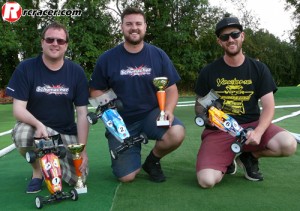 To make things awkward for the drivers the rain returned for the first leg of the A final with cars running three seconds a lap slower then they had in qualifying. After a messy race it was Darren who held off the hard charging Lee Martin (Yokomo) for the leg win. The second leg saw Simon and Darren go head to head, a single mistake from Simon was enough for Darren to take the win and with it seal the overall victory. The final leg was a walk over for Simon with Neil Cragg (Team Associated) finally showing the form we know he is capable of to take second. This result from Darren was enough for him to be confirmed as the BRCA 2WD Off-Road National Champion with a round still to go. Congratulations Darren.
Result – 2WD A Final
1. Darren Bloomfield – Schumacher
2. Simon Moss – Schumacher
3. Lee Martin – Yokomo
4. Neil Cragg – Team Associated
5. Kevin Lee – Team C
6. Elliott Boots – Kyosho
7. Lloyd Storey – Schumacher
8. Tom Cockerill – Schumacher
9. Craig Collinson – Team Durango
10. Nathan Waters – Schumacher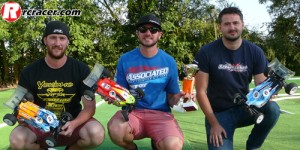 For the 4WD event on Sunday the track was changed considerably but maintained the fast and flowing theme. Thankfully the sun would be out all day with no sign of any rain. In qualifying it was Neil Cragg (Team Associated) who did the business and put his car on pole position. Lee Martin (Yokomo) lined up alongside ahead of Tom Cockerill (Schumacher), Elliott Boots (Kyosho) and Kevin Lee (Team C).
With carnage behind him, Neil took an easy win in the first leg although Tom kept him honest in second place. The second leg saw a mistake from Neil, which allowed Lee into the lead, which he held till the end, with Neil holding on to second. The deciding leg was a messy affair as Neil got away cleanly to cruise to the win as the rest of the field all held each other up. In the end it was Lloyd Storey (Schumacher) that came through for second, a great result that brought him onto the overall podium.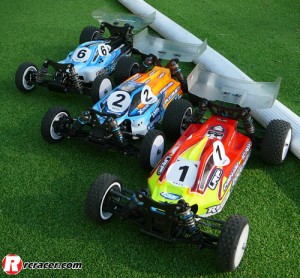 Result – 4WD A Final
1. Neil Cragg – Team Associated
2. Lee Martin – Yokomo
3. Lloyd Storey – Schumacher
4. Elliott Boots – Kyosho
5. Nathan Waters – Schumacher
6. Simon Moss – Schumacher
7. Tom Cockerill – Schumacher
8. Ellis Stafford – TLR
9. Danny McGee – Schumacher
10. Kevin Lee – Team C