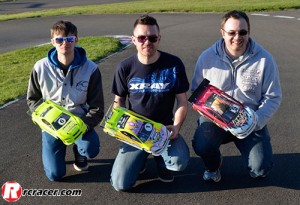 The first round of the 2015 Schumacher BTCC was held over last weekend at the awesome Cotswold track at Cotswold Airfield. The series opener, run on Sorex 32 control tyres, saw a maximum entry of 130 drivers for the first serious race on the UK calendar. Around 80 keen drivers took up the opportunity of practice on the Saturday getting their cars dialled in for the race on Sunday.
Sunday's temperatures were a little on the cool side with drivers struggling a little for traction in the early practice run after the overnight rain. In the modified class, current BRCA champion Olly Jefferies dominated qualifying taking TQ in all the rounds with veteran Chris Grainger second and new Schumacher signing Elliott Harper getting it together to line up third on the grid. These three had very similar pace and really were the class of the modified field. Paul Pinkney was next best with a solid fouth place grid position with his Mi5evo.
It the final Olly got away with Chris making a mistake on the second corner, breaking his car. Elliott chased down Olly hard with the fastest lap of the race until and unfortunate electrical problem on the last lap caused his retirement, so Olly took a comfortable win in the end with Chris Kerswell taking second and Stefan Chodzynski third.
1. Olly Jefferies
2. Chris Kerswell
3. Stefan Chodzynski
4. Matt White
5. Elliott Harper – Schumacher Mi5evo
6. Zak Smith
7. Chris Ashton – Schumacher Mi5evo
8. Phil Chambers
9. Paul Pinkney – Schumacher Mi5evo
10. Chris Grainger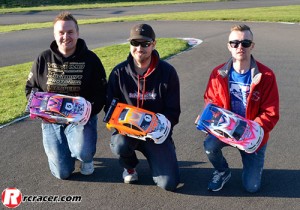 The biggest class was 13.5T boosted and Schumacher's Chris Gunter was top of the time sheets in qualifying ahead of current BRCA champ Zak Finlay and another Mi5evo of new signing James Hart. The final saw a easy flag to flag victory for Chris with Ben Putt and Jimmy Maddison taking second and third after an intense battle between the pair.
1. Chris Gunter – Schumacher Mi5evo
2. Ben Putt
3. Jimmy Maddison
4. James Hart – Schumacher Mi5evo
5. Mark Giaquinto – Schumacher Mi5evo
6. Zak Finlay
7. Liam Brooks
8. Glenn Westwood
9. Mark Wallace
10. Nathan Wilson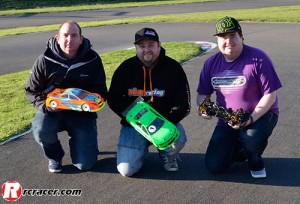 In 17.5T blinky class, veteran Midlands racer Colin Jackson took an easy victory from MB Models Michael Ball and Luke Hobson.
1. Colin Jackson
2. Michael Ball
3. Luke Hobson
4. David Hough
5. Richard Gorringe
6. James Stewart
7. John Timberlake
8. Nigel Shaw
9. Richard Ludlam
10. Jack Campfield
Overall a great weekend had by all, the next round is at the seaside town of Western Super Mare, Mendip Raceway so bring your bucket and spade!
Source: Schumacher