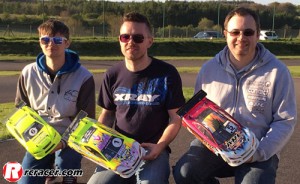 Round one of the Schumacher BTCC was held at the fast flowing Cotswold track. With a full entry of a 130 drivers, the BTCC is the most popular series of the year. Xray was in attendance with current UK champions Olly Jefferies and Zak Finlay along with new team mate Marcus Askell and the Irish pairing of Mark Gilliand and Andrew Smith. The BTCC is used by some as a national warm-up as the series uses the same tracks, usually two three weeks beforehand.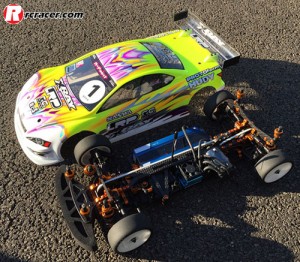 In the modified class, Olly Jefferies took fastest time in all four of the qualifying rounds to line up on pole from Chris Grainger and Elliott Harper. Olly took a lights to flag victory and was never challenged by the chasing pack. Mark Gilliand and Marcus Askell had strong runs to finish near the sharp end of the B final.
Result
1. Olly Jefferies – Xray T4
2. Chris Kerswell
3. Stef Chodzynski
4. Matthew White
5. Elliott Harper
6. Zak Smith
7. Chris Ashton
8. Phil Chambers
9. Paul Pinkney
10. Chris Grainger
In the stock class Zak Finlay showed great speed all day and narrowly missed out on TQ spot to local driver Chris Gunter. The final unfortunately did not go to plan for Zak. An early hit from another car ended his chance to challenge for a victory leaving him to battle it out middle of the pack for the remainder of the race.
The Xray team will spend the next three weeks preparing and making final adjustments for the first national of the year on 16-17 May. Both Olly and Zak will be working hard to defend the championships the both won in 2014.
Source: Xray