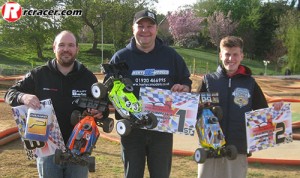 The club had done a massive amount of work getting the track ready and it was well received to thanks to everyone that helped.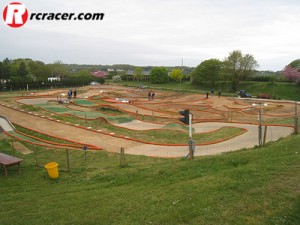 At the end of a long first day, Elliott Boots took TQ at the Euro B warm-up after a dominating day, topping the time sheets in every round. Elliott was running his Kyosho with the new longer front shocks and tower, powered by a Reds Racing R7 Evo engine running on Pro-Line X3 Blockade tyres. Callum Niblett took second and Leon Goode third. The result from day one can be found here.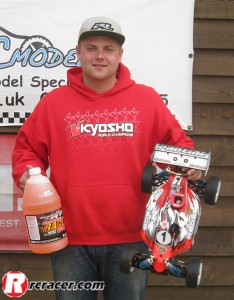 After fantastic weather on the Saturday, Sunday saw heavy rain and this meant a testing time for the club and the Bas well as a revised schedule.
Top Six – Semi A
1. Joao Carlos Figueiredo
2. Leon Goode
3. Simon Reeves
4. Lewis Jones
5. Rhys Herd
6. Jonathan Skidmore
Top Six – Semi B
1. Kevin Brunsden
2. Oliver Currie
3. Callum Niblett
4. John Hazlewood
5. Richard Barton
6. Karl Jackson
Joao Carlos was on pole, but could he hold off the challenge of the UK chasing pack? The UK had a lot of young drivers in the main including Callum Niblett, Lewis Jones and Jonathan Skidmore in their first major A final. Come the end of the final and it was Simon Reeves who hit the front at around the ten minute mark and held the lead until the end.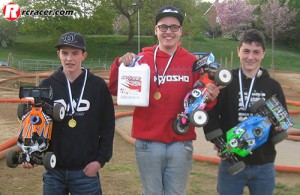 The over 40s saw Barkley Abernathy take the win ahead of David Blakeley and James Tatlow. The junior class was won by Taro Cradock from William Skidmore and Rajco Sluijs Van Der.
For a full run down of the meeting results, click here. Results from the over 40s are here and the junior final results here. HNMC looks forward to welcoming all the drivers at the main event next month.
Source: HNMC