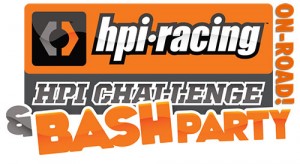 The first HPI UK Challenge & Bash Party of 2015 will be on 14 June at Cotswold Model Car Club. This is a totally free event and the organisers encourage all participants to bring their children, family and friends. All you have to do is bring your own HPI on-road car to drive on a top class race track. HPI will bring a selection of their kits that you can experience for yourself, as well as being on hand to answer your questions about everything HPI, and demonstrate them too.
If you are interested in learning about nitro-powered models, then they will show you the basics, including what you'll need to start, how to fuel and start a nitro vehicle, basic maintenance and more. If HPI's Flux systems are more your thing, then the team will show you how to get started with battery safety, charging and maintenance.
To officially join the event, click here for a link to the HPI UK Facebook page, and join the club's Facebook page here to meet the club members and check out the track and location before you go.
The day will start with a quick driver and safety briefing, just like a real track day, then they will open up the track for driving and racing, fun races with HPI prizes and demonstrations of HPI vehicles. The track is available all day but the following are the provisional scheduled events planned for the day:
09:00 – short driving/safety briefing, with a leaflet given to those showing up later in the day
10:00 – HPI Fun Race: Last Car Standing sees you race around the track without marshals. The last driver racing gets a great HPI prize
11:00 – HPI Flux Power demonstration and Q&A at the HPI tent
13:00 – HPI Team Fun Race: The famous Blindfold Race sees a blindfolded driver in control taking directions from their team mate.
14:00 – HPI Nitro demonstration and Q&A at the HPI tent
15:00 – HPI Team Fun Race: The famous Split Controller Race sees one team member steering, whilst the other controls the throttle
16:00 – HPI Race: A real race just like the pros do it, for a great HPI prize
Please note that only on-road vehicles are allow at Cotswold Model Car Club. For safety reasons, all RC driving will be limited to the enclosed track area only.
Source: HPI Racing