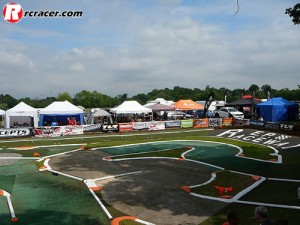 Round four of BRCA Off-Road National series took the racers to south London and the classic Eden Park Raceway. An old school track with a mix of Astroturf and some concrete sections, it's a challenge for the drivers and doesn't give the super high grip of modern Astro. As a result the finals racing is normally epic, and this year was no exception.
With Simon Moss winning the previous 2WD event the championship has been opened up from the expected Neil Cragg and Lee Martin battle, and this meeting opened it up even further. With both Lee and Neil back from a very successful world championships warm-up meeting the previous week where they finished first and third, they actually struggled for pace and to many people's surprise weren't at the sharp end of the timing sheets.
Tom Yardy took the pole position with his Team Associated B5M and proceeded to dominate all three legs of the A final to take a very popular win. After some super close racing second place went to Neil (having ditched the car he used at the worlds warm-up for his usual UK ride) and Ellis Stafford who took third with his converted 4WD TLR.
Result – 2WD
1. Tom Yardy – Team Associated
2. Neil Cragg Team Associated
3. Ellis Stafford – TLR
4. Lee Martin – Yokomo
5. Richard Lowe – HB (2WD)
6. Simon Moss – Schumacher
7. Danny McGee – Schumacher
8. Nathan Ralls – HB (2WD)
9. Lloyd Storey – Schumacher
10. Elliott Boots – Kyosho
Just for a change there was rain on Sunday morning, but it was only light drizzle and although it caused a headache for tyre choice during the first round it soon cleared up and left us with a nice day to enjoy. As with the previous day the track had a lovely flow to it and with a different layout through the centre section to spice things up a bit.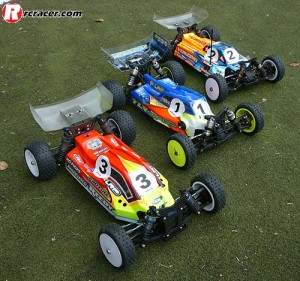 Qualifying went to the TLR of Ellis Stafford, a driver who is always spectacular and fast at Eden Park. Lee and Neil had found their pace for this class and lined up behind Ellis with their Yokomo and Team Associated cars respectively. The racing was amazing and with Neil taking two leg wins he sealed the overall victory to get his title chase back on track. Ellis took the other win and was a bit unlucky to 'only' finish second whilst Lee in third to finish up the podium.
Result – 4WD
1. Neil Cragg – Team Associated
2. Ellis Stafford – TLR
3. Lee Martin – Yokomo
4. Kevin Lee – Team C
5. Tom Cockerill – Yokomo
6. Tom Yardy – Team Associated
7. Danny McGee – Schumacher
8. Simon Moss – Schumacher
9. Nathan Waters – Schumacher
10. Lloyd Storey – Schumacher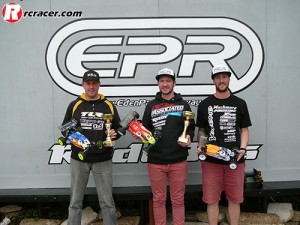 There's a little break now to allow for the European championships warm-up at Robin Hood Raceway, but the championship chase will reconvene soon after on the south coast with our hosts TORCH.