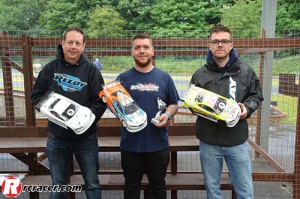 The super fast circuit of Halifax was the venue for the latest Schumacher BTCC round this past weekend. Virtually all the racers turned up on Saturday for lots of practice time and the weather was dry with a good forecast for the whole day.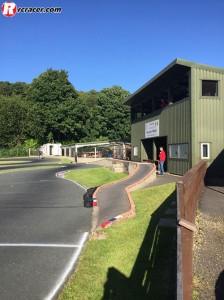 However, the forecast for Sunday was totally the opposite with very heavy rain predicted for the early afternoon. Due to this, a decision was taken to start the event slightly earlier on Sunday morning and to try and complete the event in dry conditions. The format for the day was four rounds of qualifying under the round-by-round system and then a single final for all.
As forecast, the rain held off until the last few heats of the final qualifying round, then a little started to fall here and there to make things a little more interesting.
For the final, everyone was preparing their wet cars and grooved tyres as it was a little moist…
Schumacher's Colin Price took his form from the great win at the last BRCA National and stamped his authority in the modified A final to take the the win from Olly Jefferies and Chris Grainger.
Result – Modified
1. Colin Price – Schumacher
2. Olly Jefferies
3. Chris Grainger
4. Zak Smith
5. Elliott Harper – Schumacher
6. Alan Bickerstaff
7 Stefan Chodzynski
8. Matthew White
9. Andy Murray – Schumacher
10. Phil Chambers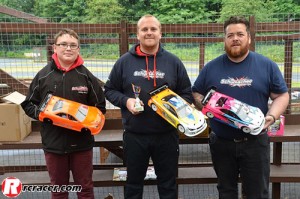 James Hart followed the lead of Colin and tool the 13.5T boosted win from a very fast Ross Walker with Lee Price in third, all running Mi5evos.
Result – 13.5T Boosted
1. James Hart – Schumacher
2. Ross Walker – Schumacher
3. Lee Price – Schumacher
4. Zak Finlay
5. Chris Gunter – Schumacher
6. Jimmy Maddison
7. Mark Wallace
8. Thomas Ridgley
9. Nathan Wilson
10. Andy Low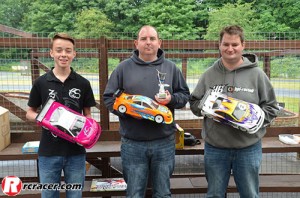 The 17.5T blinky class was comfortably won by Michael Ball from MB models with Bradley Coaker second and James Stewart third. The A final results were as follows:
Result – 17.5T Blinky
1. Michael Ball
2. Bradley Coaker
3. James Stewart
4. Mike Mansell
5. James Robinson
6. Kris Kennedy – Schumacher
7. Bryony Freeman
8. Steve Hudson DNS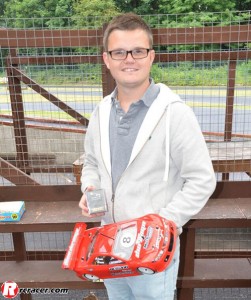 After some brilliant racing in the tricky conditions, there was the traditional trophy and sweet presentation and also the famous Schumacher raffle – congratulations to all the lucky winners of the prizes. Star prize winner of a Highest LP servo was Adam Howe.
As always a massive thank you to everyone that attended the event. A huge thank you to the Halifax club for hosting the event, to Muriel for overseeing things, to Bev on race control and to Craig at scrutineering – you all did a great job! Also to Kris Kennedy for some entertaining commentary in the finals!
The next round of the series is at Bedworth on 16 August and you can book in here.
Source: Schumacher