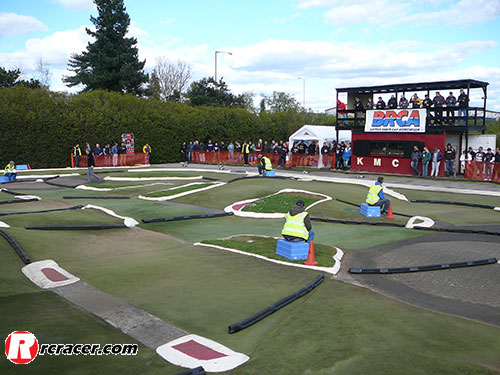 The BRCA Off-Road National Series for 2016 kicked off over the weekend at the home of Kidderminster Model Car Club, a predominantly Astroturf track with some tarmac and cobbled sections.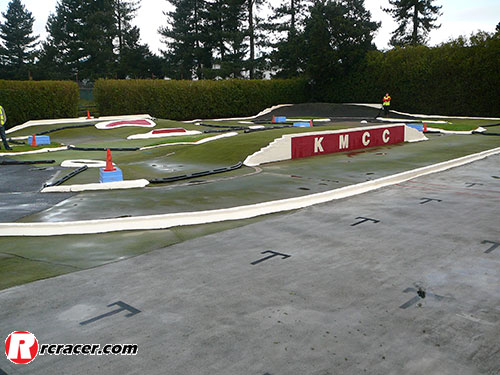 2WD – Saturday
The weather forecast was for it to be wet, but nobody was ready for the snow that greeted the drivers on the Saturday morning. Thankfully it didn't last and the remaining standing water was swept from the track with minimal delay.
The track remained damp throughout qualifying though, which left the drivers in a quandary over which of the different transmission layout cars to use. Most opted for an upright gearbox and it was Lee Martin with the new Yokomo YZ-2 DT car that took pole position ahead of the similar car of team-mate Simon Moss with Neil Cragg driving the Team Associated B5M next up.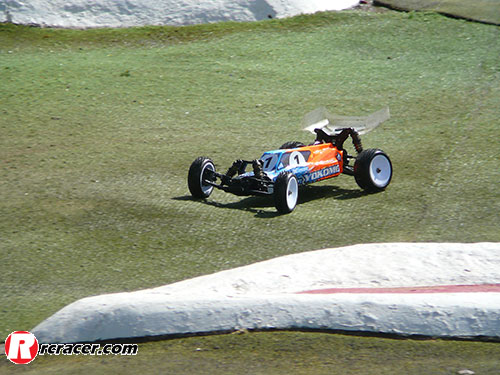 The finals saw changing conditions that didn't help the decision making process for the drivers with various strategies being employed. In the end the wins were shared with one each from the three legs for Lee, Simon and Neil. With the scores added and the count-back of fastest leg win needing to be taken into account for the overall win, it was Lee that started the season with the win to go with TQ which gives him a great start as he looks to retain the title he won last year.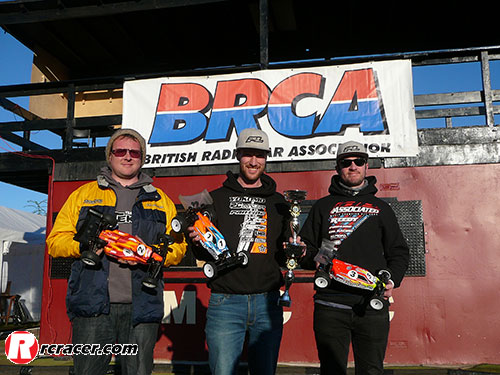 Result – 2WD A Final
Lee Martin – Yokomo
Simon Moss – Yokomo
Neil Cragg – Team Associated
Tom Yardy – Schumacher
Danny McGee – Schumacher
Craig Collinson – Team C
Richard Taylor – Schumacher
Iain Mellish – Kyosho
Ellis Stafford -TLR
Tom Cockerill – Yokomo

4WD – Sunday
The following day saw a complete change of weather with a clear sky and the sun shining. The temperature would remain on the chilly side, but at least the sun stayed out for most the day. The track layout was less technical for 4wd and very fast and flowing.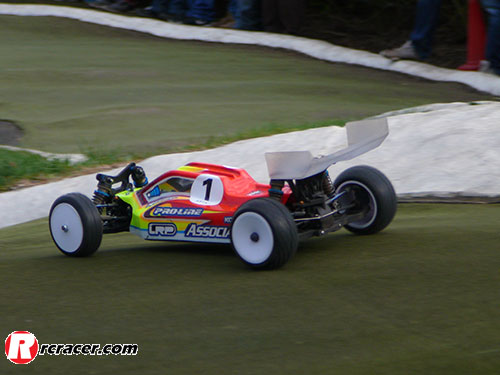 In qualifying Neil Cragg dominated to take the pole position ahead of perennial rivals Lee Martin and Ellis Stafford. The first two legs saw Neil pull away from the field to take the overall win whilst Lee took the final leg to seal the runner up spot. A great start for Neil as he attempts to win back the championship.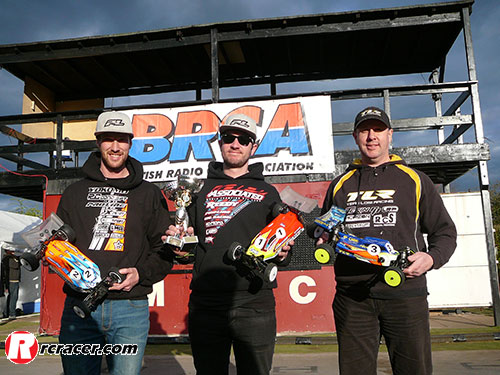 Result – 4WD A Final
Neil Cragg – Team Associated
Lee Martin – Yokomo
Ellis Stafford – TLR
Danny McGee – Schumacher
Tom Yardy – Schumacher
Simon Moss – Yokomo
Craig Collinson – Team C
Tom Cockerill – Yokomo
Paul Robinson – Team Durango
Chris Doughty – Team Durango
Next up is a visit to Robin Hood Raceway in four weeks.