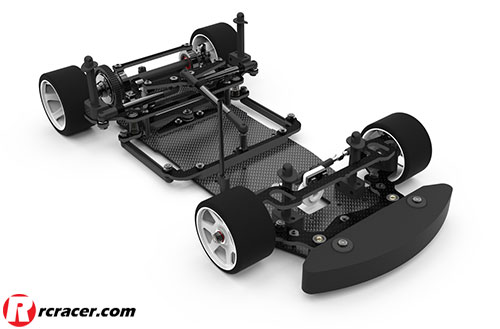 The latest innovation from Schumacher for the exciting world of GT12 racing is the new Atom CC. Alongside the original SupaStox Atom, the CC features a carbon fibre chassis and the ability to adjust the battery mounting position. The CC is ideal for the driver that likes a more responsive and edgy feel to their car. Here is a rundown of the key features:
New carbon fibre chassis for improved response
New adjustable battery position for balance tuning, more forward option.
More forward servo position with improved chassis mounting
New smaller steering ball grippas
Lightweight ball differential with three screw wheel fixing and carbon axle
Separate springs for independent roll and bump stiffness adjustment
Balanced rear pod assembly
Contact wheels
Extra low motor position
Lightweight low centre of gravity CNC alloy motor mounts
The Atom CC will come in both Sport and Pro specs, both using the same carbon fibre chassis. The Sport kit has a fixed rear axle with no diff, no side dampers and old style SupaStox rear wheels. The Pro kit as shown in the picture includes a carbon fibre Pro diff, side dampers, left rear wheel clamp and new Atom GT12 wheels.
It is also possible to convert an Atom to the CC spec using the following parts:
U7276 – Carbon Fibre Chassis – Atom CC
U7277 – S1 Side Link Mount – Atom CC
U4968 – Ball Sockets Low Profile -Eclipse (4)
U7278* – Servo Saver Assembly 23T – Atom CC
U7279* – Servo Saver Assembly 25T – Atom CC
*use either
Schumacher have a dedicated web page for the new car here.
http://www.racing-cars.com/pp/Car_Showroom/SupaStox_ATOM.html
K173 Schumacher Atom CC Pro
K174 Schumacher Atom CC Sport
Source: Schumacher Racing