Grainger Takes Final 2009 BRCA National
Report By Papa J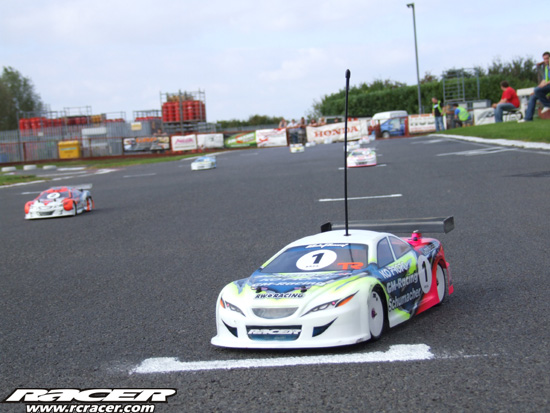 BRCA Electric TC National Round Five Mendip Race Report
The last national of the year and a bit of party feel to this gathering by the seaside at Weston-Super-Mare, the Mendip circuit was in splendid condition and full marks to the club for the warm welcome and the effort they have put in to getting the track up together.
The weather was the best we have enjoyed at a national this year, after two rounds of controlled practice and a drivers briefing qualifying got underway just after lunch.
In Super Touring Chris Grainger could even afford a small mistake and got away with one on the way to the fastest time in round one of Super Touring qualifying, to be honest the pace Chris had this was all about who is going to be second, the rest were that far adrift. The XRay of Elliott Harper was second with Colin Price next up, team-mate Matt White was fourth with another Schumacher and Olly Jefferies was fifth.
In Pro Stock we had a championship still to settle and contender Adam Meakin did not get off to a great start with a roll in round one. Jon Bowden led the way in round one of Pro Stock with his Cyclone ahead of Ayrton Anderson and Lee Price, Steve Lander was next up with his Team Associated TC5 and Chris Clark completed the top five in round one, Adam Meakin recovered from his error to record the seventh fastest time.
The same drivers who were fastest in round one repeated their good form in round two with Chris Grainger and Jon Bowden taking fastest times in Super Touring and Pro Stock. In Pro Stock it was second for Lee Price and an excellent third for Zak Smith, the young Team Associated driver showing some excellent form on a track he looked very at home on. After a poor first run Ryan Edwards posted the fourth fastest time of round two in Pro Stock with Chris Clark completing the top five.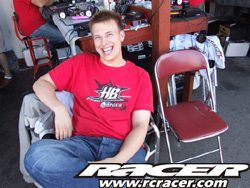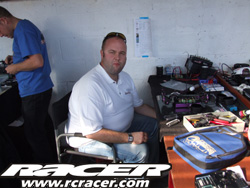 In Super Touring, Ben Cosgrove was second for Hot Bodies behind Chris with Olly Jefferies third. Elliott Harper made a small mistake which probably cost him third, the XRay driver having to settle for fourth with Matt White once again putting his Mi4 well up the order in fifth.
Another win for Chris Grainger in the third round saw him take pole for the Super Touring A final on Sunday, this left the overnight top three in Super Touring Chris from Elliott Harper, and Olly Jefferies. Glen Doman had been looking quick all day and his reward for a solid three runs was fourth behind Olly with Colin Price looking very fast in fifth.
A fantastic run by Ayrton Anderson in round three of Pro Stock saw him break Jon Bowden's dominance but overnight Jon still led from Lee Price and Ayrton. Another talented youngster in the form of Zak Smith was next up with Chris Clark completing the top five while class championship contender Adam Meakin while was still in touch in sixth place.
Luke Thompson recovered from a slow start and was now well in the top ten, Gary Dyson was also going well and looking good for an A final spot in Pro Stock.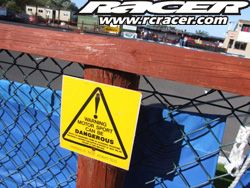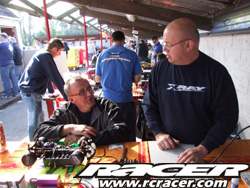 Day two and the same glorious weather greeted drivers as they arrived, some bleary eyed from some end of season late night partying. Two more rounds of qualifying and three leg finals lay ahead for this the last touring car national of the year. The Mendip track had been very well received by the drivers and many were expressing a strong desire to come back to the venue next year.
In Super Touring Matt White was the king of the Sunday morning club with a fastest time in round four, this gave Schumacher a one-two at the top of the times with Chris Grainger leading and Matt second, Olly Jefferies was second in round four ahead of Chris Kerswell who after no testing at the track was starting to string some good runs together.
Jon Bowden took round four in Pro Stock and doing so secured pole for the A final, Lee Price was next up for Schumacher just ahead of Ayrton Anderson's XRay, and behind these three was the Team Associated paring of Steve Lander and Zak Smith.
A quick catch up on the kit being used this weekend and how its performing showed that in Super Touring the GM package looked awesome and the speed of Chris Grainger's, Colin Price's and Matt Whites Mi4's was noticeably head and shoulders above the chasing pack. In Pro Stock the  Novak 10.5 motor was breathing new life in to the Associated team with Steve Lander and Zak Smith both having their most consistent showing of the season.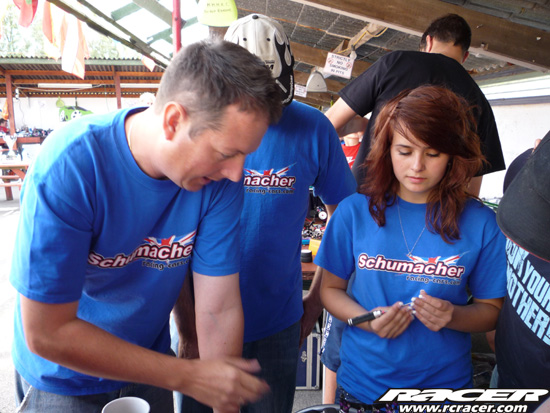 Final round of qualifying and time for Ben Cosgrove to show his true pace, Ben set the fastest time with his Hot Bodies in round five ahead of Olly Jefferies; Matt White was quick again with third in this the final round of Super Touring qualification. So the Super Touring top three for the A final was Chris Grainger, Ben Cosgrove and Olly Jefferies, behind these three Matt White nudged out Elliott Harper dropping the X-Ray driver to fifth.
In final round of Pro Stock it was a superb run for Ayrton Anderson and his fifth round win would put him second on the grid for the A final. Lee Price was fast and consistent once more and he finished second behind Ayrton. Sam Clifton was third in the round but had left his charge a little late and would end up with pole in the B final. So the A final in Pro Stock looked like this, Jonny B on pole from Ayrton and Lee Price with the Associated duo of Steve Lander and Zak Smith fourth and fifth.
First of the Pro Stock A finals and an early mistake from Ayrton dropped him out of contention as Jon Bowden eased away from a chasing Lee Price, Zak Smith made a good start to get into third early on, these three would go on to take the first three spots as all eyes were on the midfield battle between Ryan Edward, Luke Thomson and Ryan Edwards, so great driving by there three youngsters had every one on their feet while the top three stayed stationary to the end of the race. The Pro Stock B final was a great dice between Sam Clifton and Gary Dyson, youth verses experience, on this occasion youth came out on top but Gary made Sam work very hard for it.
Leg two of the Pro Stock A final and another disaster for Ayrton. Jonny Bowden cruised to another dominant victory ahead of Lee Price, Lee was doing all he could to pressure Jonny but the Hot Bodies was not making any mistakes and Lee would have to settle for second ahead of Zak Smith, so the second leg was a repeat result of the first.
Jonny Bowden made it three out of three in leg three with flag to flag victory, nice to see Ayrton get one good final under his belt, he kept Johnny under pressure for most of the race but had to settle for second, Steve Lander capped a difficult season with third place in the third leg of the Pro stock A final. The overall result of the A final Pro Stock was a resounding win for Jonny Bowden a result which gives him the 2009 Pro Stock crown, second was Lee Price and third an excellent result for one of the BRCA young guns Zak Smith.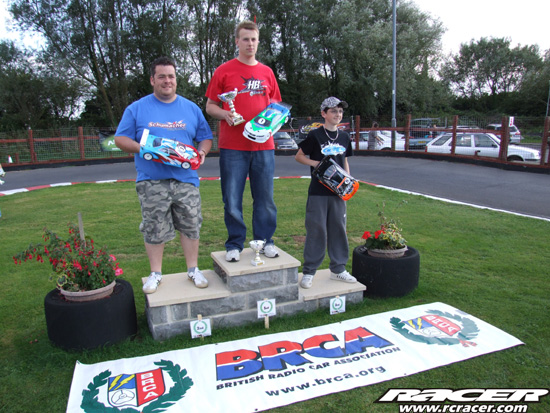 Chris Grainger got away well in the first of the Super Touring finals, but Ben Cosgrove squirmed across the track as the following drivers swerved to try and miss him, most managed it but those that collected Ben were left trying to make up for a poor first lap, Olly kept Chris honest for half the race but both seemed to back off to save their tyres once they realised it was status quo on pace, Elliott Harper came through for third. A good run for Brian Eldridge with his XRay in the B final saw him taking the win just ahead of Andy Robson.
The second leg of the Super Touring A final saw the same top two repeat their first leg performances, with Chris taking the win and Olly easing around Ben on lap one to take a second place he held to the end, a strong third for Matt White put him in contention for an overall podium place with third in leg two
The last race of the season was leg three of the Super Touring A final. Ben Cosgrove got off the line better in the third leg and after a rare mistake from Chris Grainger went on to win leg three ahead of Olly and Matt White. The podium for the Super Touring Class saw that man again Chris Grainger on the top step for Schumacher with Olly Jefferies second for Associated and Matt White capping a good weekend for him and Schumacher third overall.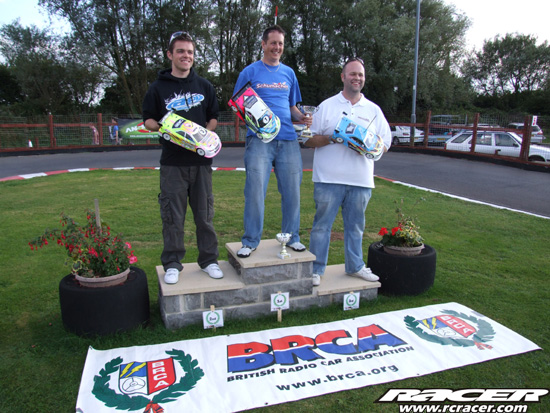 Well that's the season over with, mighty congratulations to our 2009 champions Chris Grainger and Jonny Bowden, a big thank you goes to the Mendip club, so many drivers were saying how much they would like to return here next year. Some very creditable performances this weekend, particularly from Zak Smith and Lee Price in Pro Stock and I feel Chris Kerswell deserves a mention for coming to Mendip with no practice under his belt and making the Super Touring A final.
Overall results from the meeting can be viewed here.