Duratrax 1:5 DX450 MotoCrosser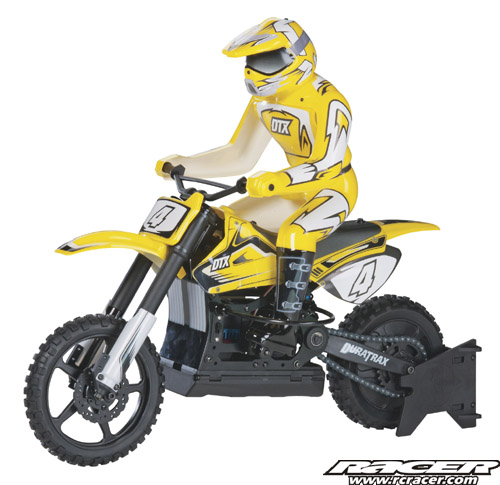 A true RC motorcycle that grinds through anything!
Finally, there's a true off-road RC motorcycle that's more than just hype. Go ahead — abandon the asphalt — and run the DX450 through dirt and grass. Scream over hills…tear across valleys…leap, land and let loose gravel fly. This factory-assembled, brushless-powered, rut-ripping bike can do it all — and it's available only from DuraTrax!
Lean the DX450 into a turn and then accelerate upright, in complete control. DuraTrax designed a simple but effective mechanical gyroscope that keeps the bike stable and steady in anyone's hands. It takes anything your imagination can unleash, while being easy to control by any driver at any skill level.
The DX450's full suspension and knobbed tyres help absorb the bumps and control the ride. For hot street racing or wild motocross thrills, you'll find a perfect track for two-wheeled attack right outside your front door.
Start racing the DX450 almost straight from the box – all of this is included and installed:
Tacticâ"¢ 2.4GHz 2-Channel Pistol Radio System, with the receiver factory-linked to the transmitter. No waiting and no interference worries!

3800kV Brushless Motor for high-end speed and trail-ripping torque —with virtually no maintenance.

DuraTrax 75A LiPo-compatible brushless ESC with Deans® Ultra Plug® connector.

High-volume, oil-filled rear shock and dual, long-travel coil-spring front shocks. Touch down from jumps and wheelies with ease!

Durable, no-hassle metal chain drive.

Modular, black-anodized aluminium chassis — ultra-light and motocross-tough!

All-metal flywheel gyro system for low-speed stability and secure, high-speed cornering — it keeps the bike steady and you in control.

14-piece bearing set for high speeds, long life and smooth running.

Requires: 7.2V NiCd/NiMH or 7.4V LiPo battery and charger



DTXD02** 1:5 Scale DX450 Motorcycle 2.4GHz RTR Retail: $519.99 Street: $349.99
Recommended products:
DTXC2054 NiMH 7.2V Onyx Stick Dean's Universal Retail:$32.99 Street:$25.99
DTXP4200 Onxy 200 AC/DC Sport Peak Charger Retail:$59.99 Street:$39.99
Recommended options:
DTXC1814 7.4V 4000mAh 25C Stick Deans LiPo Battery Retail:$119.99 Street:$84.99
DTXC2151 NiMH 7.2V DTX5000 Stick Deans Universal Retail:$84.99 Street:$59.99
DTXP4230 Onyx 230 Charger Retail: $119.99 Street: $79.99
Available: Early November
For more information please visit: www.duratrax.com
Source: Duratrax