Novak M2 Dig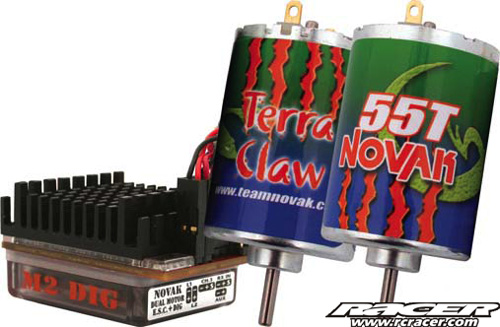 Picture the functionality and utility of two Novak Goat Crawler Speed Controls in brushed mode, two 55-turn crawler brushed motors and Novak's Dig Unit; now, envision it in one highly programmable, inexpensive package and you get the revolutionary M2 Dig ESC / Dual Terra Claw Brush Motor Combo (#1845). This first-of-its-kind, dual-motor compatible speed control – the M2 Dig Dual Brush ESC (#1846) – is combined with two Terra Claw Crawling Brush Motors – 55T (#3556) and independently controls the motors to perform dig maneuvers. In addition to standard digs, the M2 sports independent biasing of the front and rear motors to allow for precise maneuverability through tricky terrain, and exceptional control on steep inclines and downhill descents. The M2 ESC is compatible with any Super Crawler dual-system rig, such as EnRoute's® Bergâ"¢, Integy's® Super and Unlimited Class of crawlers, and Clod Buster®-based vehicles.
Specialised Dig
The small and light M2 is easy to install and operate. There are three fully programmable throttle profiles:
Dig Mode is the standard mode. It uses drag brake to create dig. This mode requires a proportional switch or a simple three-position switch to operate.
Proportional Dig Mode. Using the third channel on a three-channel surface receiver, Novak's patent-pending, proportional dig software allows drivers to fine tune the amount of power supplied to the individual motors. This innovative feature provides seemingly endless mixing between the vehicle's two motors.
Single Motor Brushed Mode is for drivers with single-motor crawlers. This mode allows drivers to solder all four motor wires to one brushed motor for improved performance in single-motor applications. This mode uses a standard two-channel operation for single or dual-motor control. A third channel is required for dig operation.
In addition to crawling applications, the M2 Dig ESC is ideal for applications that require two motors, such as robots, boats, tanks and submarines.
On-Board And Pc Adjustability
All three of the throttle profiles can be easily adjusted through Novak's tried-and-true on-board set-up. There are four PCB-mounted LEDs to aid in programming and two different-colored external LED indicator lights – located at the ends of six-inch harnesses – that visibly display when a motor is locked and the vehicle is ready to dig. Additionally, the M2 Dig ESC can be fine tuned via Novak's fully adjustable PC interface, the NovaLinkâ"¢ (#5440). The NovaLink software is purpose-built for crawling and assists in adjusting the speed control's programmable features.
The powerful speed control also comes equipped with instant reverse via Novak's Zero Reverse Delay, which provides immediate power delivery in both forward and reverse directions.
No Modifications Necessary
Like Novak's Electronic Dig Unit (#5450), the M2 Dig ESC does not require any vehicle modifications to install or operate. Simply plug it into any three-channel surface receiver, and you're ready to crawl! The M2 Dig ESC is easily programmed into most three-channel transmitters, such as the Spektrum® DX3R DSM2 3CH Surface Radioâ"¢, Airtronics'® M8 and M11 R/C Radiosâ"¢, and a Traxxas® (TQ-3) Transmitterâ"¢.*
Maintenance-Free Motor
Novak's affordable Terra Claw Crawling Brushed Motor, which is also available individually, provides precise movement control, and exceptional torque and long-run times due to the motor's high-turn count. Additionally, the Terra Claw is extremely durable, ensuring many smooth and maintenance-free crawling seasons. The M2 Dig is also compatible with Novak's Fifty-Five (#3555) and Forty-Five Crawler Brushed Motors (#3545).
M2 Dig Esc/Dual Terra Claw Brush Combo Features
Fully programmable, user-friendly interface with five adjustable parameters: Drag Brake (10 settings), Dead Band (5 settings), Minimum Drive (10 settings), Drive Frequency (10 settings) and Battery Type Selection (3 settings – Li-Po, Li-Fe and Ni-MH)
Independently powers the front or rear motors in a dual-motor crawler vehicle
Applicable for dual-brushed motor or single-brushed motor applications
Built-in PC connection with new Novalink for expanded programming
Internal high-voltage five-amps switching regulator to provide six volts of output without overheating the speed control
Universal JST Input Plug for Ch.2 and Ch. 3, which fits all popular brand receivers
Water-resistant case with gasket seal
Thermal Overload Protection
Meets RoHS compliance and includes 120-Day Warranty
Designed and assembled by Novak in Irvine, California using globally-sourced components
M2 Dig Esc/Dual Terra Claw Brush Combo Specs
Input Voltage: 2S Li-Po/Li-Fe cells or 4-7 Ni-MH cells (1.2V/cell)
ESC Footprint: 1.16" x 1.47" (29.5 x 37.3 mm)
ESC Weight (w/o wires): 1.30 oz. (36.9g)
Motor Limit: 27-turn 540-sized dual brushed motors
BEC: 6.0 volts DC / 5.0 amps
Status LEDs: 4 on-board; 2 external
Voltage Cut-Off: 6.25V (Li-Po), 4.75V (Li-Fe) (when Li-Poly Cut-Off Circuitry is enabled)
Power Wires: 14G Super-Flex Copper-Strand Silicone Wire
Replacement / Optional Parts
#5315 (optional) or #5320 (replacement) User-replaceable Input Harness
#5463 3-Amp High-Voltage Universal BEC (optional)
#5508 14-Gauge Silicone Brushless Wire Set (replacement)
#5647 Black Cooling Fan 25x25x10mm (replacement)
#5679 Racing Power Trans-Cap Module – 2S Li-Po and 4-6 cell Ni-MH (replacement)
#5731 Low-Loss Power Connectors – 3.5mm (optional)
S5603 Remote Programming Switch – Hardwired (replacement)
* The Traxxas® (TQ-3) Transmitterâ"¢ must be modified with a three-position auxiliary switch to operate with the M2.
Source: Novak