2009 Top Dog Dash for Cash – Stage II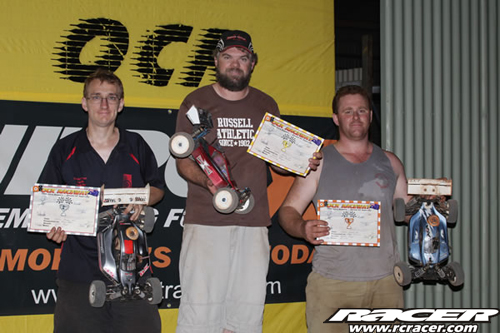 With the drivers being presented with a rain ravaged circuit for Stage II of the Top Dog Dash for Cash Series, it was always going to be a tough event, with very little grip around most of the circuit.
Round one saw Knauth – Hyper 9 – RB get out in front with Gavin Newman – Xray – Nova Rossi early on to run away from the pack with Knauth taking the win 8.49 secs ahead of Newman, the pair putting two laps on closest rival Jesse Newman in third.
Round two again saw Knauth pull out a sizeable lead to finish in front ahead of Sergio Manalvo – MBX6 – OS, Gavin Newman third, Jesse Newman fourth, Daniel White – Xray – Caster fifth, White picking up the stage special Top Sport Buggy driver.
Round three saw Manalvo get the holeshot giving him the prize for the round, a very close battle ensued between Manalvo, Jess Newman, Gav Newman and Knauth until lap 10 when Knauth lost a front wheel, the unforgiving track barriers renowned for loosening front wheel nuts, proving very costly dropping to eighth, in the end though Manalvo took a very hard fought win from Gav just 5.74 secs behind Jesse third, Dean Baker – HB V8E fourth, Henri Raafs – Hyper 8.5 – RB fifth.
Round four, with the circuit beginning to clear up, lap times were coming down, with Jesse getting into the 33 sec bracket, and taking a very close win just 2.54 secs ahead of Gavin Newman and Knauth third, Manalvo fourth, Baker fifth, White, Peckham – RX8E, Mark Sinclair – 808 – RB, Matthew D'Arnay – X1CR – Force, and young Ty Newman – Xray – RB filling out the Top Ten.
Round five, the final round in Stage II saw another hard fought battle between the front runners, with Gavin Newman doing a runner midway through to take the win Manalvo second, Knauth third with Gavin Newman taking the outright stage II win.
Final Placings:
Pro Buggy:
1. Gavin Newman – 808 – Nova Rossi
2. Sergio Manalvo – MBX6 – OS
3. Tony Knauth – Hyper 9 – RB
Sport Buggy:
1. Gary Puttock – RC8B – Reedy
2. Henri Raafs – Hyper 8.5 – RB
3. Mark Sinclair – 808 – RB
Junior Buggy:
1. Jesse Newman – 808 – Nova Rossi
2. Ty Newman – 808 – RB
3. Luke D'Arnay – X1CR – Werks
Stage II Specials
Round 1 – Pro Buggy FTD – Tony Knauth
Round 2 – Top Sport Buggy – Daniel White
Round 3 – Holeshot Hero – Sergio Manalvo
Round 4 – Top Junior Buggy – Jesse Newman
Round 5 – Fastest Average Lap Sport Buggy – Henri Raafs
Source: OCR Raceway