2009 Top Dog Dash for Cash

Stage I
The TDDFC is to be run over three stages with trophies and prizes for the outright series positions. Prizes are also awarded during each stage for special sections, plus for the outright stage win.
On to the racing, Round one was a close battle between the super fast Jesse Newman and Knauth with both drivers lapping the field, Knauth taking the win ahead of Newman with Tam Bui – 808 – RB home in third place.
Round two saw Gavin Newman with the win ahead of Ciccone – MBX6 – Nova Rossi with Jesse third, Kyle Hodges – X2CR – RB, Knauth – Hyper 9 – RB, Jackson – MBX6 – Nova Rossi, Bui, Dean Baker – Caster Fusion, Shaun Rawlings – XB8 EC – Force and Daniel White – 808 – Caster rounding out the top ten. With three Newmans racing at this event Gavin and sons Jesse and Ty, Ty the youngest to have ever competed at OCR, the young driver turning six in two weeks, did a fantastic job, piloting his RB powered Xray 808 around the circuit to a third outright podium in the Junior Buggy class.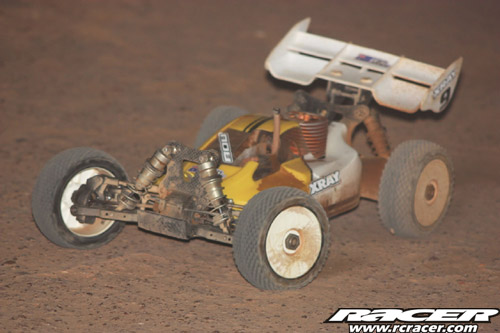 Round three was all Jesse, battling with Knauth until the final laps, when the Hyper driver made a couple of mistakes under pressure to let the young Newman get away to put down a 14 lap race, the first 14 lapper for the night, Tam Bui in third four seconds behind, Ciccone fourth, Tom Jones – 808 – RB fifth.
Round four another Newman v Knauth battle with Gavin picking off the win and the FTD, Knauth second, Jesse third. The top six drivers in this round all in the 33 second bracket, just 0.7 seconds separating them.
Round five, the final for the night, saw Jesse going into this round as the outright points leader with a one point gap over Knauth, Knauth pulled off the Holeshot with Gavin Newman pushing hard all race trying to chase him down getting within a couple of seconds of the leader a number of times only to make small mistakes letting him get away again. In the end Knauth took the round win with Gavin 1.58 seconds behind with Ciccone pushing hard for third ahead of Bui and Baker.
This saw Knauth taking the outright Stage win ahead of Jesse and Gavin!
Stage 1 Specials
Round 1 – Top Sport Buggy – Daniel White
Round 2 – Top Junior Buggy – Jesse Newman
Round 3 – Holeshot Hero – Phillip Ciccone
Round 4 – Fastest Average Lap – Gavin Newman
Round 5 – FTD – Tony Knauth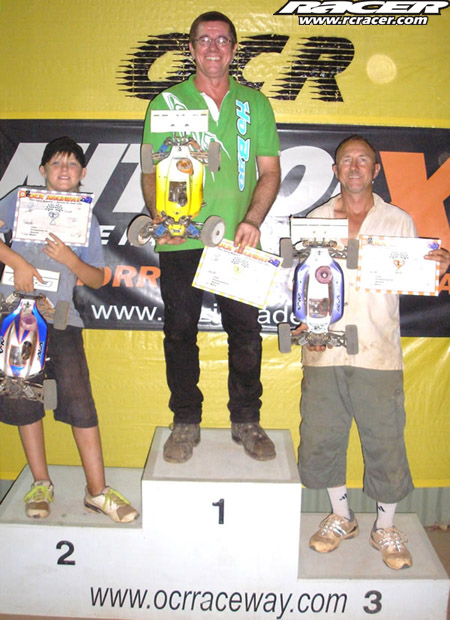 Pro Buggy:
1. Tony Knauth – Hobao Hyper 9 – RB
2. Jesse Newman – Xray 808 – Nova Rossi
3. Gavin Newman – Xray 808 – Nova Rossi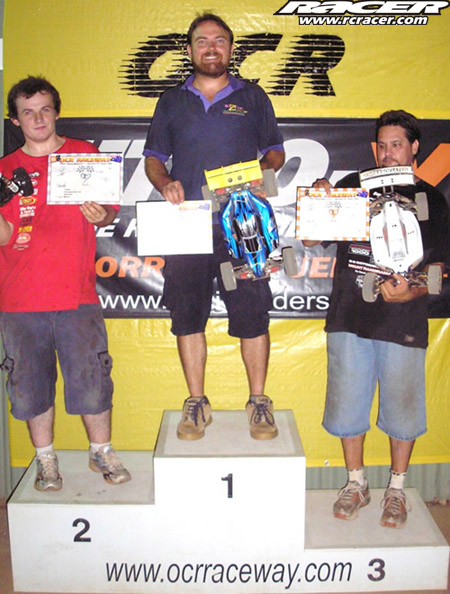 Sport Buggy:
1. Dean Baker – Caster Fusion
2. Daniel White – Xray 808 – Caster Grenade
3. Steven Peckham – Team Associated RC8E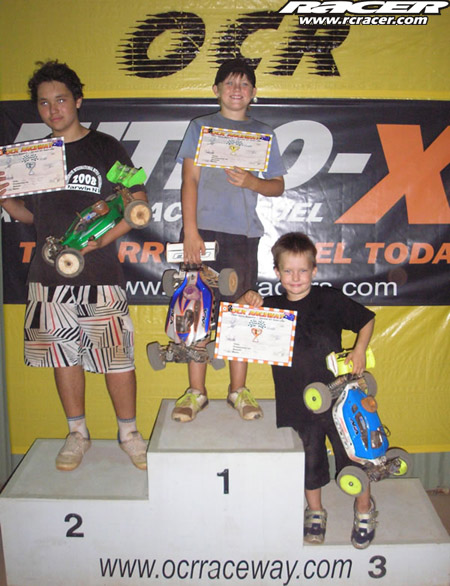 Junior Buggy:
1. Jesse Newman – Xray 808 – Nova Rossi
2. Tom Jones – Xray 808 – RB
3. Ty Newman – Xray 808 – RB
Source: OCR Raceway