FTX Spyder 1:10 Super-Size Rock Crawler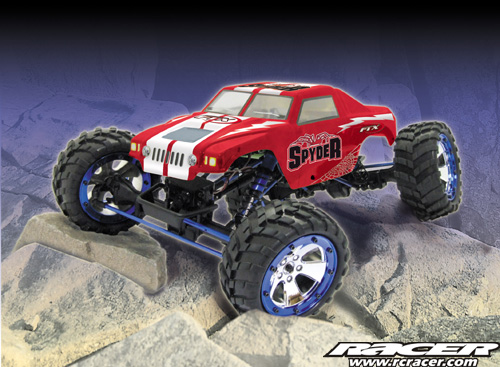 Rock crawling is a craze for all ages and all abilities. Its ease of use and run anywhere mindset makes it appealing whenever and wherever you are. FTX has targeted this class with the Spyder, a super-size 1:10 Rock Crawler that provides plenty for your budget.
Whilst competition crawler fans choose to follow the 2.2″ size class rules, there are those that just want their crawler big and bad. Enter the Spyder. Its over-sized dimensions further enhance its crawler ability with large beadloc style wheels and super soft tyres to mould around the terrain. Aluminium chassis and suspension components are anodised a cool blue colour for the ultimate finished look.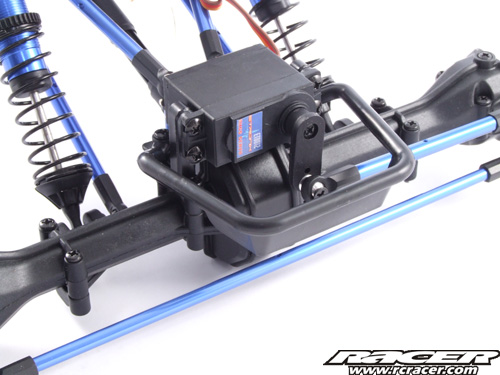 The centre chassis piece houses the electronics, battery and high torque 70t motor and transmission unit. The transmission features a slipper system for added protection when snagged up on the rocks. Oil filled, threaded body shocks handle each corner and the potential 80Ëš axle articulation. Due to the demands of crawling, FTX have chosen to include an Etronix 9kg all metal geared steering servo to help navigate your Spyder through the rocks.
If you want something that is quick, fun and can be taken and used just about anywhere then you need the FTX Spyder.
Features:
Factory assembled and Ready-To-Crawl
2 channel RC system installed
Crawling Fwd/Rev electronic speed control
High torque 70T motor
High torque Etronix 9kg metal geared steering servo
True chrome plated beadlock wheels – no gluing!
Shaft driven 4wd
Slipper system for transmission protection
80Ëš Articulation
Custom blue anodised aluminium parts
Oil filled, threaded bodies shock absorbers
Quick release stick pack battery system
Requires battery and charger

Specification
Width: 353mm
Height: 175mm
Wheelbase: 310-350mm
Tyre size: 138x65mm
FTX5500      FTX Spyder 1:10 Super-Size Rock Crawler
Source: CML Distribution