HPI Formula 10 Charity Race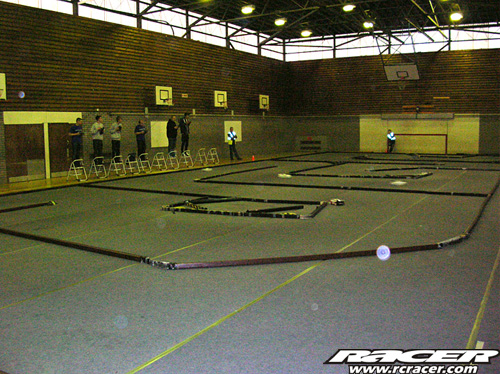 Sunday the 15th of November was the date selected for this year's running of the Derby Model Car Club charity race to raise funds for Cancer Research. 44 Competitors booked in for a day of relaxed and enjoyable racing, and with four qualifying rounds and two finals some drivers entering two classes got value for money – with up to 78 minutes of racing for their entry! This was a great amount of racing, even if car preparation between racing and marshalling did become hectic.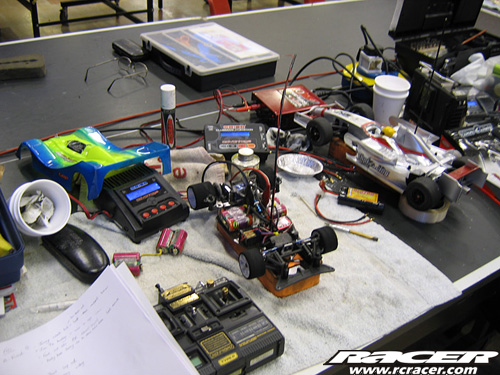 Pitting in the small hall allowed a full size track layout to be constructed in the large hall, with a wide flowing and fast layout that suited the serious 1:12 racers and beginner touring car drivers alike. Being laid and left down from Friday night's club night, the track had plenty of grip for the 9am start and made an excellent opportunity for racers to experiment with car tuning and to improve times as rounds progressed.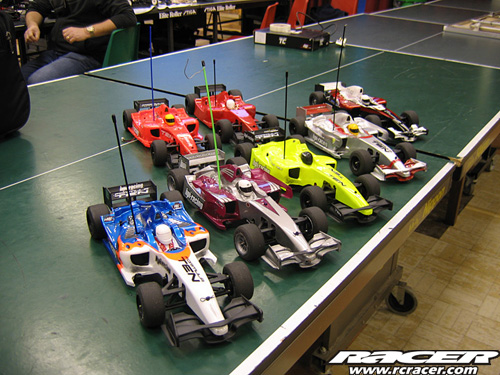 Besides the usual touring car 27T/13.5T stock class, touring car modified class and 1:12 modified class, HPI had its own Formula 10 class as a test session for running of the upcoming HPI Formula 10 challenge series in 2010. With rules to be finalised, this race allowed a number of battery and motor combinations to judge performance and popularity from racers. On the day, competitors ran cars ranging from 27T HPI Fireball motors with 6-cell NiMh stick packs or 2-cell LiPo to 17.5T brushless or 15T HPI Fireball motors with 4-cell batteries. Surprisingly most combinations were similar in speed, allowing for close racing where race craft such as choosing lines, overtaking and blocking became more important than car set-up and expensive equipment. This allowed the not-so-experienced or rusty drivers to compete fairly with the regular racers.
The Top Qualifiers in each class were :
Touring Car Stock Terry Keefe with 19 in 310.4 laps and best of 15.61
Touring Car Modified Stefan Chodzynski with 22 laps in 307.4 and best of 13.64
1:12 Modified Andy Moore with 39 laps in 483.1 and best of 12.02
Formula 10 had developed into two battles with Jonathan Bowden, Ian Plimmer and Stefan Chodzynski being separated by mere seconds after the five minutes followed one lap down by James Stewart, David Bone and Robin Davison only a further 13 seconds apart. Top man Jonathan managed 19 laps in 314.5 with a best of 16.15 not far behind stock touring car speeds.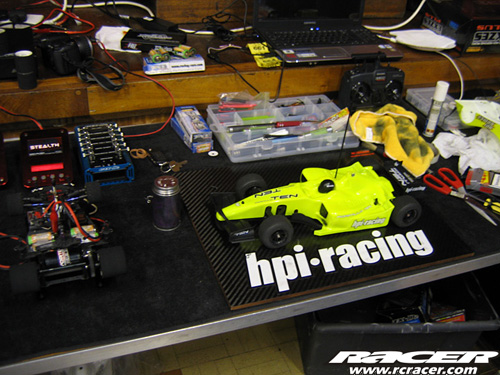 In the lower heats for many of the club competitors a staggered start and two-round finals were a novelty but at the sharp end drivers like Andy Moore showed how things should be done.
Top three in each class were :
TC A final stock Michael Blackburn followed by Dominic Jackson & Simon Buckley
TC B final stock Oliver Taylor followed by Matt Sharman & Matt Cripps
TC Modified Stefan Chodzynski followed by Jonathan Robinson & Leigh Burton
1:12 A final Andy Moore followed by Leigh Burton & Andy Sawyer
1:12 B final Robin Davison followed by Trish Whiteley & Marc Hodghinson
HPI Formula 10 Ian Plimmer followed by Stefan Chodzynski & Jonathan Bowden
The Formula 10 final one had not gone well for Jonathan, as after tangling wheels with Ian Plimmer, he slipped from first to last place on the first lap. This was followed by several incidents trying to catch up to the pack, before he eventually handed the transmitter to Andy Moore to show him how it should be done! Meanwhile Ian Plimmer took the win despite his transmitter beeping loudly to tell him its batteries were so low with no display by the end. In final two Jonathan made amends with a victory but not sufficient to prevent Ian Plimmer taking overall victory.
After racing finished and all was packed away, racers stayed back for a brief presentation ceremony and the charity raffle of prizes donated by club members, local shops and HPI with the top two prizes of an RC bike going to Ian Plimmer and a HPI Formula 10 to Dominic Jackson. In all a very enjoyable day with thanks especially to Lin & Brian Plimmer for organising the event which raised over £1200 for charity.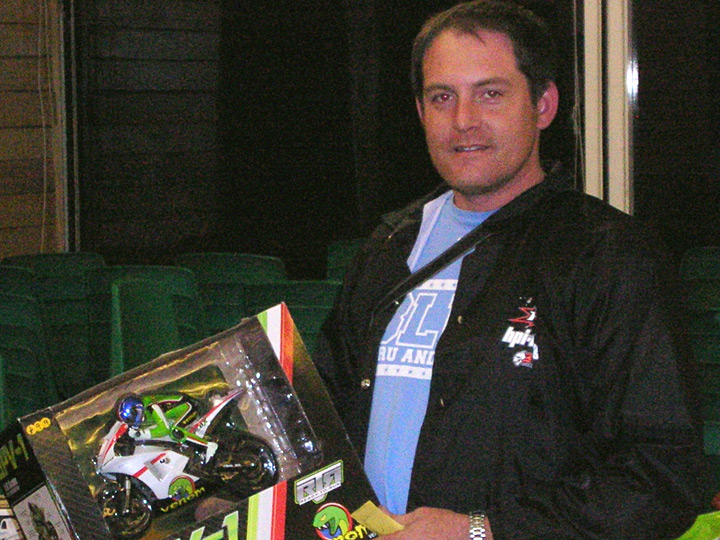 These are the setups that have been found to work really well after many laps of testing by HPI racers. They are optimised for different budget levels and allow new or rusty racers to be just as fast as the pro guys.
Tyres
Front: #102907 Bridgestone High Grip FT01 Slick Tyre S (Front)
Rear: #102907 Bridgestone High Grip FT01 Slick Tyre S (Rear)
Electronics
Budget beginners set-up – Recommended combination for value for money even in door class racing
Battery: #101931 HPI Plazma 7.2V 2400mAh NiMh Stick Pack Re-Chargeable battery
Motor: #1144 Saturn Motor 27T
Speedo: #340 EN-1 Electronic Speed Control
Gearing: 75 / 16
Bang-for-buck setup – Recommended combination for value for money even indoor class racing
Battery: #101940 HPI Plazma 7.4V 3000mAh 20C Lipo Round Case Stick Pack Re-Chargeable Battery
Motor: #1144 Saturn Motor 27T
Speedo: Forward / Brake competition speedo
Gearing: 75 / 16
Racer setup – expensive specification, similar performance to 27T Lipo combination
Battery: #101935 HPI Plazma 4.8V 4300mAh Nimh Stick Pack Re-Chargeable battery
Motor: Brushless 17.5T
Speedo: Brushless Forward / Brake
Gearing: 75 / 25
Ride Height
Rear: 4 to 5mm under T-bar
Front: Spacer in upper position above C-hub
T-Bar Stiffness
Front screw: medium tight
Rear screw: soft
Damping disc lubrication: Use Associated clear differential lubricant
Front suspension springs
Kit standard for smooth handling: #102834 Standard Spring
Stiffer option for more initial steering: HB #61699 Front Spring (Hard/0.55mm/5Coils)
Bearings for less friction and improved tolerances
#102877 Ball Bearing Set (Formula 10)
#ED151080 Ball Bearing Set (Formula 10 ABEC 3)
Other
Damping Shock – For smoother on/off power handling, using standard kit shock spring
#102879 Threaded Aluminium Shock Set (Orange)
#101539 Edit RC Aluminium shock
Servo saver for more responsive steering – HB #61644 Servo Saver Set
Differential – Run with standard gear differential
Source: HPI Europe