Hudy 1:8 Off-Road Set-Up Wheels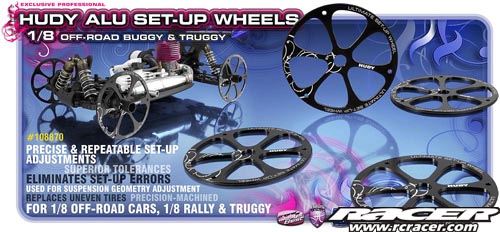 Hudy CNC-machined premium-quality aluminium set-up wheels for 1:8 off-road cars allow for perfectly precise and repeatable set-up adjustment and tweak correction. Eliminates set-up errors inherent in using standard off-road tyres. Precision-machined to exacting tolerances, each aluminium set-up wheel in a set is perfectly matched.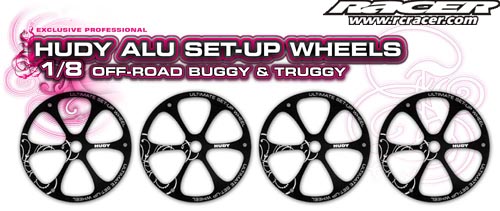 Suspension set-up, ride height setting and checking tweak using standard rubber tyres typically gives non-precise and non-repeatable measurements. Rubber tyres with foam inserts are never perfectly round, so when checking and setting up suspension geometry, ride height or tweak it is important to have all four sides of the car to be exactly the same size and perfectly round. The aluminium set-up wheels are one of the most important and basic set-up tools when performing a professional car adjustment.
This set of set-up wheels can be also used for a 1:8 Rally Car or 1:8 Truggy (not for ride height).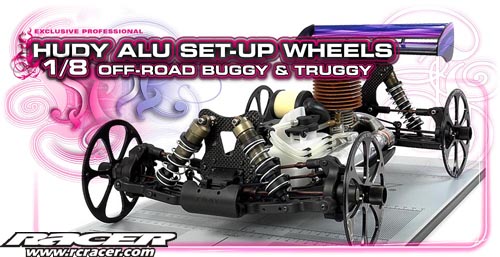 Professional aluminium set-up wheels
Used for perfectly precise, repeatable set-up adjustments
Eliminates set-up errors
Used for suspension geometry adjustment, ride height and tweak checking
Replaces uneven tires when setting up the car
Premium quality and super-strong aluminium
Precision-machined, superior tolerances
Fits 1:8 off-road cars and also 1:8 Rally Car & Truggy
Must have for professional racers
#108870 Hudy Aluminium Set-up Wheels for 1:8 Off-Road Cars (4)
Source: Hudy