Hudy Exclusive Set-Up Bag For 1:8 Off-Road & Truggy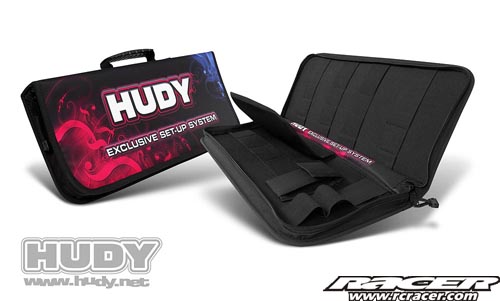 The premium-quality Hudy exclusive set-up system carrying bag is a unique product, designed by Hudy for RC car racers with smart and perfectly thought-out details. This is the perfect way to carry your set-up system with you to the track. The universal design allows the carrying of most 1:8 off-road and truggy set-up systems available on the market, with a multitude of different pockets & straps to accommodate most popular components.
Inside the bag, there are individual pockets and elasticised bands that can accommodate the following types of components: set-up system, droop blocks & gauges, ride height gauges and more. A separate storage area is given for set-up wheels and camber gauge. Velcro-sealed pocket is for storing fasteners and accessories. The extra long truggy upside measure plate for the set-up system also fits perfectly into the bag as well.
Made from lightweight nylon for high strength and durability, and featuring a super-modern look with stylish full-colour graphics it is constructed with high-quality European materials and craftsmanship. A heavy-duty zipper with pull cord gives quick and easy access to the bag interior, and a strong nylon strap handle with soft rubber cover allows for comfortable carrying. Designed to fit quickly & easily into carrying boxes or side pockets of carrying bags such as the Hudy Carrying Bag.
Premium, exclusive set-up system carrying bag
Perfect size for carrying complete Hudy 1:8 Off-road Exclusive Set-up System, related components, and accessories
Well thought-out placement of all set-up system components
Separate storage area for set-up wheels
Velcro-sealed pocket for storing fasteners and accessories
Cool, stylish and full-colour graphics
High-quality European materials and manufacturing
Heavy-duty zipper with pull cord
Lightweight nylon for high strength and durability
Super-strong stretchy xylan bands hold set-up system components in place, and will keep their stretchiness for a long time
Strong nylon strap handle with soft rubber cover
#199240      Hudy Set-Up Bag For 1:8 Off-Road & Truggy Cars – Exclusive Edition
Scroll down for more images of the Hudy Set-Up Bag
Source: Hudy