Neo 2010 Race Announced!

Neo Buggy is pleased to announce the return of the Neo race in 2010 ("Neo 2010"). This will be the fifth running of the Neo race; the first race, the 2005 Neo Invitational organised in Belgium before moving to the Harper Adams venue in 2006 followed by 2008 and 2009 editions; all organised with the DXR team. There will be some changes to the timetable, seven minute heats and six rounds of qualifying rather than five. The event will be run over four days: 2-5th April 2010; one day of practice, two days of qualifying with a 'dash for cash' race Sunday night, and finals on Monday. The race will run one class: 1:8 Buggy. We hope to once again welcome some of the finest 1:8 off-road drivers to attend this prestigious annual event. Sponsors welcome!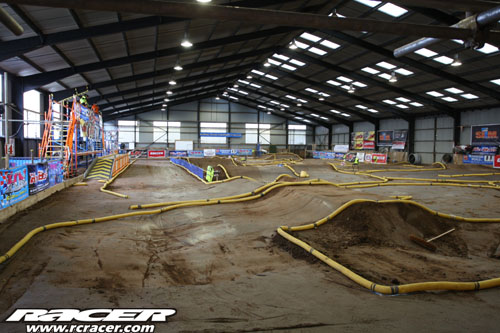 Past Winners
2005: Jared Tebo – USA
2006: Adam Drake – USA (Buggy & Truggy)
2008: Adam Drake – USA
2009: Jared Tebo – USA (Buggy), Ryan Maifield – USA (Electric 1/8 Buggy)

Venue: Harper Adams University College, Shropshire
An agricultural college located near Newport, Shropshire, The Neo race uses the college's indoor soil hall – the largest of its kind in Europe. Next door, the agricultural machine hall is transformed into the Neo pitting hall. Track construction usually starts one or two weekends before the event, depending on the college's timetable. The temporary track in its 'race-ready' state exists for only four days, as soon as the event finishes demolition of the track, pitting area, race control, drivers stand etc., begins – by the next morning everything is gone. The fact that the track only exists 'for' the race ensures a fair and level playing field for all drivers; no one having practiced on it and at an advantage – it is a true test of the driver. The organisation team are able to keep the track consistent via daily watering schedules and sweeping of the racing line, weather is less of a factor than outdoor races as we race under a roof and lights!
Further details will be published on www.theneorace.com, entry will open 1st December.
Contact: info@theneorace.com
Scroll down for more images of previous Neo races.
Source: Neo 2010