TAMIYA FAIR SPECIAL – TA05 ver. II Chassis Kit With Upgrade Pack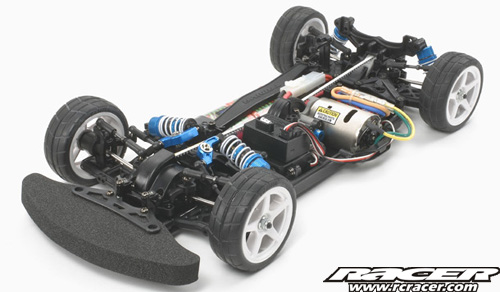 Tamiya is proud to release the TA05 ver.II Chassis Kit with an Upgrade Pack full of Option Parts. Once assembled, you will be able to experience first hand how the included Option Parts will improve the performance of your machine.
About the Model:
This is a 1:10 RC assembly kit.
Length: 373mm
Width: 188mm
Wheelbase: 257mm
Tread: 165mm
Gear Ratio: 1:7.19,
Tyre Diameter / Width: 64/24mm.
The included Upgrade Pack includes 15,600 yen worth of Option Parts.
Medium narrow racing radial tyres x 4pcs. included.
Medium narrow white 5-spoke wheels (offset 0) included.
Urethane bumper included.
Body not included (sold separately). Compatible with TT-01, TB-03, and TA05 bodies.
Motor, 2-channel RC system, ESC, and Tamiya Battery Pack sold separately.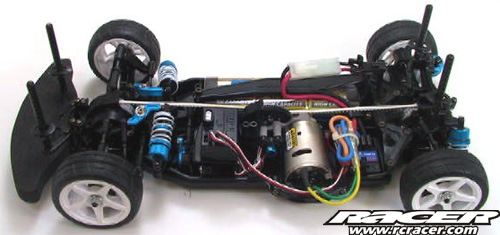 About the Upgrade Pack:
42102 TRF Special Damper (Hard Black Coating) 4pcs.
53833 TA05 Front One-Way Unit
53992 TA05-IFS Aluminium Rocker Nut
53993 TA05-IFS Aluminium Rocker Arm Set
54023 DB01 Front One-Way Pulley (37T)
54121 Aluminium Horn For Hi-Torque Servo Saver
51000 Hi-Torque Servo Saver (Black)
51023 Medium-Narrow Racing Radial Tyres
53471 Medium-Narrow 5-Spoke Wheels (Offset 0)
Newly designed TRF sticker sheet
A wide variety of Option Parts are separately available to further customise your machine:
54170 TA05 ver.II Low Friction Drive Belt (342mm)
54175 TA05 ver.II Separate Suspension Mounts (1D-1XD)
54196 TA05 ver.II Carbon Reinforced K Parts (Stiffener)
54197 TA05 ver.II Aluminium Motor Mount Set
92217       1:10 RC TA05 ver.II Chassis Kit (w/Upgrade Pack)
Source: Tamiya