TC5 & RC10R5 Success at Thrashnals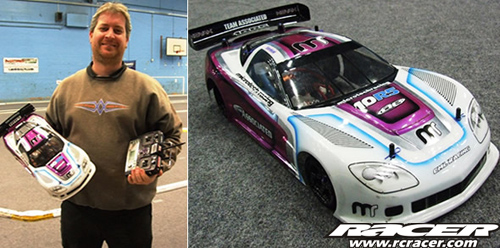 Keith Robertson and Olly Jefferies dominate at rounds three and four of the Chippenham Carpet Thrashnals.
Last weekend saw the running of the third and fourth round of this seasons Chippenham Model Car Club's Carpet Thrashnals. This year has seen strong numbers for the series and is backed once again by CML. Using the event to practice and develop the TC5 with a LiPo set up Olly Jefferies entered rounds three and four. In the World GT class CML was represented by Keith Robertson running his RC10R5.
100 drivers arrived at the Christie Miller Sports Centre, a good entry considering Newbury Model Car Club were running round one of their winter series just a few miles away down the M4.
Keith got off to troubled start with problems setting up his electrics; he left it to the very last round to post a time which gave him FTD and pole for the A final.
While Keith sorted his car Olly was flying setting fastest times in every round of qualifying and he put his TC5 on pole for the Pro Stock A final.
Both CML drivers dominated their finals taking both legs of the A final completing a dominant performance in both classes. It was the second weekend in succession where Olly has won convincingly on carpet. Last weekend he took FTD and won the A final at the first round of the Carpet Wars series.
Both Keith and Olly now look forward to more carpet racing as this weekend they contest the second round of the BRCA 1:12 national series and they will be racing their Associated 12R5's at indoor venue at Newbury.
A summary of the first rounds of the series will appear on the CML web site later this week.
Source: CML Distribution