TAMIYA FAIR SPECIAL – TT-01E BMW Sport Evo. Drift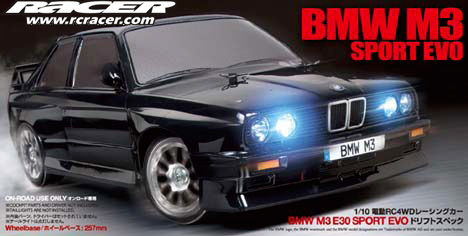 The retro BMW E30 M3 Sport Evo. now comes loaded on the excellent drift spec TT-01D Type-E chassis and is waiting for you to test your drifting prowess.
About the Model:
Based on the lightweight and user-friendly TT-01D Type-E chassis for effortless assembly.
4WD shaft driven bathtub chassis with coil spring damped, 4-wheel independent double wishbone suspension and sealed front and rear differential gearboxes.
Drift-spec modifications include special suspension tuning, RS-540 sport-tuned motor, aluminium heat sink, CVA mini shock dampers and soft springs and adjustable upper arms.
Installed on the stylish silver wheels are Super Driftech tyres which are made from a resin and rubber compound specially designed for long-lasting drift action. (24mm width)
Includes two 5mm diameter white LEDs to depict realistic headlights.
Includes TEU-104BK ESC.
2-channel RC system, battery pack and charger separately required.
Wide variety of Option Parts are separately available to further customise your machine:
53937 Tamiya LED Light Control Unit (TLU-02)
51000 Hi-Torque Servo Saver (Black)
54026 TT-01 Alu. Prop. Joint & Shaft
54059 TT-01 Type-E Carbon Damper Stay (Front)
54060 TT-01 Type-E Carbon Damper Stay (Rear)
58451      1:10 RC BMW M3 E30 Sport Evo. (TT-01D Type-E Chassis) Drift Spec
Source: Tamiya