TAMIYA FAIR SPECIAL – Tyrrell P34 Six Wheeler 1976 Japan GP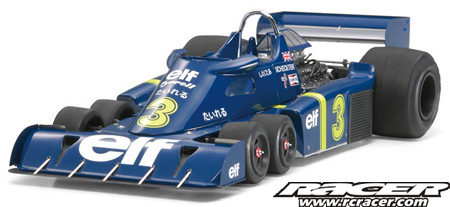 Image shows item 20058 static display model kit
The Tyrrell P34 caused a sensation within the F1 world when it was unveiled in 1975. Derek Gardner sought to enhance braking and cornering performance by reducing the size of the drag-inducing front tyres while preserving contact patch area through the use of four tyres, thereby creating the only 6-wheeled machine in F1 history. It took part in races beginning with the Spanish GP in 1976, and drivers J. Scheckter and P. Depailler went on to drive their cars to a 1-2 finish at the Swedish GP to prove the incredible potential of the P34. At the final race of the season, the P34 appeared before Japanese fans at the inaugural Japanese GP held at Fuji Speedway. F1 race cars often have race-specific modifications, and the No.3 Tyrrell P34 driven by J. Scheckter at the Japanese GP was distinguished by a triangular net guard fitted on the air funnel and large wingtip panels on the rear wing. The race was a battle for the championship between Ferrari's N. Lauda and McLaren's J. Hunt and drew a great deal of attention both within Japan and around the world. The weather was fair on Friday and Saturday, but conditions were worsened by rain on Sunday. Although the race finally began at 3PM after a long delay, championship contender N. Lauda quickly retired. The lost excitement was brought back by the performances of the Japanese drivers and P. Depailler's Tyrrell P34. From his 13th place qualifying position, Depailler overtook the field to briefly lead before a tire puncture dropped him back to finish the race in second place behind M. Andretti's Lotus.
About the Model:
This is a 1:10 scale RC assembly kit of the history-making Tyrrell P34.
The P34 is mounted on its own special chassis based on the F103 chassis.
Rubber tyres included.
Type 540 motor included.
The polycarbonate body accurately represents the P34 which featured an exposed engine bay. Polycarbonate rear wing with aluminium stays included.
Sticker sheet depicting the 1976 Japanese GP included.
2-channel RC system, battery pack and charger are separately available.
ESC is also not included as this model is for intermediate and expert level RC drivers.
84111       1:10 RC Tyrrell P34 Six Wheeler 1976 Japan GP (Tentative)
Source: Tamiya